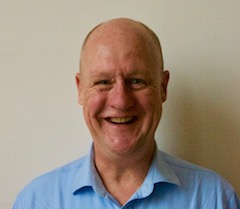 NPS founder David MalcolmMelbourne-based NPS (Network Professional Services) has discovered an upside to NBN rollout delays by using the Aussie-designed failover routers to solve the problem of delayed connections.
NPS has this month received the Accelerated Concepts Australian Partner of the Year Award 2017 for exemplary growth and market penetration of the Australian market.
Accelerated routers, which provide Internet access via 4G cellular data networks when primary broadband links fail, are designed by Brisbane-based Accelerated Concepts Ltd, but until the past year, were available only internationally through US-based Accelerated Concepts Inc.
Since 2016, NPS, as Accelerated's Master Reseller in Australia, has both sold and supported the range of routers and built a national retail distribution network for the devices. Accelerated has a broad range of industrial-strength 4G-capable routers from $499 at https://www.acau.com.au/.
Accelerated Concepts Pty Ltd managing director Matt Ramsay said NPS had proved itself an exemplary partner in raising the brand's national profile. "NPS founder David Malcolm is a passionate advocate for our products who has established Accelerated as a credible local brand," he said.
"David has done much more than just move product. He has clearly established Accelerated routers as a quality value proposition for organisations that want to guarantee they will stay online 24/7."
Accelerated routers, which support every carrier frequency in Australia and New Zealand, including Band 28 and carrier aggregation, deliver built-in intelligent bandwidth support, making them ideal for both congested city networks as well as rural areas where telephony and broadband data compete for popular frequency bands. Band 28, on the 700 megahertz (MHz) frequency which was formerly used by analogue television services in Australia, is typically uncongested.
NPS executive director David Malcolm said he was honoured to receive the Accelerated partner award in Australia. "The beauty of this product is that it solves real business problems," he said.
"I don't have to sell it to people, just show them what it can do, and they are typically keen as mustard to install it. With the problematic NBN rollout and the increasing reliance on home and business automation, people increasingly want to guarantee that their home or business stays online all the time, even if the wired Internet connection cuts out.
"Accelerated delivers the perfect solution to that problem. Some customers who may not have realised their old copper services are due for removal can take advantage of Accelerated's 4G failover devices like the 6350 and 6330 family. When the copper has been disconnected, and an order has not been made for NBN, customers can use high speed 4G until the NBN is up and running, and then continue to use it for failover after that point."
For more information about the Accelerated range of routers, visit www.acau.com.au.
For media assistance with interviews, high-res images or to request a loan unit for media review, call John Harris on +61 8 8431 4000 or email john@impress.com.au.
About Accelerated www.acau.com.au
Accelerated Concepts, Inc. is a leading provider of enterprise wireless cellular network data hardware and services. Our solutions are used today in Fortune 500 companies and major Tier 1 telecommunications service providers. Founded in 2006 in Tampa, Florida, Accelerated Concepts, Inc. now has offices in Tampa, Florida; Chicago, Illinois; and Brisbane, Australia. Our executive team has more than 100 years of experience in the telecommunications industry, including executive positions at IBM and AT&T. Accelerated Concepts, Inc. is privately held.
Related News
Accelerated aims to speed up sales with NPS

Accelerated Concepts managing director Matt RamsayBrisbane-based Accelerated Concepts has appointed Melbourne's NPS (Network Professional Services) as a master reseller to sp...
Accelerated strikes up new bands for the bush

Accelerated Concepts has launched 4G failover routers that support all carrier bands in Australia and New Zealand, including Band 28, boosting mobile broadband speeds for congested...