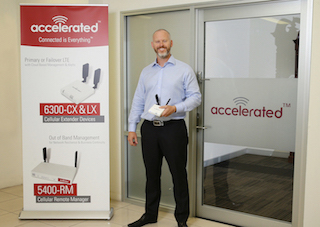 Accelerated Concepts managing director Matt RamsayBrisbane-based Accelerated Concepts has appointed Melbourne's NPS (Network Professional Services) as a master reseller to speed up sales of its Australian-designed 4G failover routers.
Designed by an engineering team based in Brisbane, Accelerated routers use an embedded, carrier-certified cellular modem to provide Internet access via 4G LTE and 3G cellular wireless data networks when primary access fails. The devices are sold globally by US-based Accelerated Concepts Inc. In Australia, they are available through https://www.acau.com.au/.
With a long background in routing products, Richmond-based NPS employs network engineers with experience from SME to enterprise service and sales staff familiar with channel sales in Australia and New Zealand. NPS already partners with CrowdStrike, BeyondTrust and Okta.
NPS is also a member of the Apple Consultants Network with expertise in LAN / WAN deployment, Active Directory and UNIX / Linux operating systems. NPS is ideally placed to assist in the deployment of Accelerated Concepts 4G LTE solutions, whether as a standalone installation in a retail store or with 4G LTE bandwidth for enterprise networks.
Accelerated Concepts Pty Ltd Managing Director Matt Ramsay said NPS would address the large opportunity for the company's products in Australia and New Zealand. "Our team in Brisbane is basically the engineering arm for Accelerated Concepts globally," he said.
"Accelerated Australia is 100 per cent focused on building a quality product that is tailored for the Australian, US and global markets. Our engineering team designs all the firmware, software, hardware and packaging for Accelerated products, manages their purchasing and manufacturing and is responsible for gaining appropriate certifications for both our domestic market and abroad.
"Rather than build a local internal sales team, we've decided to deliver our products in the ANZ market through a partner. David Malcolm and his team at NPS have the technical skills and sales experience to quickly understand our products and how they will work in the local market.
"David's focus is relentless, so I know he will grab this bull by the horns and wrestle it into the dirt."
NPS Executive Director David Malcolm said Accelerated's 4G failover routers offered tremendous value for both resellers and customers. "Accelerated provides a fast alternative to keep businesses running when the broadband breaks down on Australia's ageing copper infrastructure," he said.
"Capable of speeds as fast as 300 megabits per second, the Accelerated 6350 router can give the NBN a run for its money without having to roll out expensive infrastructure or wait for months or years.
"We believe this is a cost-effective investment in failsafe operation for organisations that demand reliable Internet connectivity, from point of sale support for retailers and popup shops to medical practices needing fast, high capacity Internet access.
"We're seeking resellers such as vertical software solutions providers, system integrators, communications companies and telcos that support clients in industries as diverse as fast food, retail, infrastructure and automotive sales and service.
"Accelerated offers advanced products that are highly configurable and easily deployable when compared to other products. And they're available at a great price."
For more information about Accelerated products in Australia, visit www.acau.com.au
For media assistance, call John Harris on +61 8 8431 4000 or email john@impress.com.au.
About Accelerated www.acau.com.au
AcceleratedisaninnovatorandleadingdesignerofVPN,CellularandOEMsolutionsspecialisinginglobal cellular data network communications. Its industry-leading hardware and software solutions provide primary and failover fixed wireless data connectivity for business continuity and cloud-based network management. Since the creation of its flagship NetBridge product in 2006, Accelerated continues to innovate its line of cellular hardware, network management software and network function virtualisation (NFV) technology. Accelerated offers a range of wireless WAN (WWAN) products including the 6300-CX and 6300-LX series of LTE, 4G and 3G router products ideal for retail or branch locations or even Machine to Machine (M2M) and Internet of Things (IoT) environments. All Accelerated products can be centrally managed using the Accelerated View™ cloud-based network management software.
Related News
NBN problems help NPS win Accelerated award

NPS founder David MalcolmMelbourne-based NPS (Network Professional Services) has discovered an upside to NBN rollout delays by using the Aussie-designed failover routers to solve t...
Accelerated strikes up new bands for the bush

Accelerated Concepts has launched 4G failover routers that support all carrier bands in Australia and New Zealand, including Band 28, boosting mobile broadband speeds for congested...