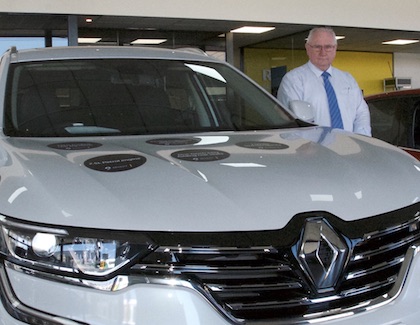 Essendon Renault CFO Les HoganMelbourne car dealership Essendon Renault has saved thousands of dollars a year by deploying Accelerated 4G routers to avoid broadband breakdowns that can bring the business to a standstill.
Essendon Renault is highly reliant on the Internet to operate efficiently, with a state-of-the-art Virtual Machine Cluster serving remote desktop sessions, email and virtualised routing technology and a cloud-based virtual PABX. Both Sales and Service departments rely on real-time Internet access.
However, the company, which has branches in North Melbourne and Moonee Ponds, has experienced a range of broadband outages or service disruptions that have prevented one, or both, branches from accessing the Internet. In one case, the switch to Naked ADSL services disrupted Internet access for the next two weeks.
Essendon Renault Financial Controller Les Hogan said some disruptions had been show-stoppers. "If we haven't got that instant communication all the time, then my business just stops," he said.
"In Sales, we can't find out what models are available in a timely manner and in Service, we have to ring you up and say 'sorry sir, the computer is down, we can't service your car today' and that's not good for relationships. So broadband outages do dramatically impact on us. We're at a point where we just can't go back and default to paper - it just doesn't work."
When Essendon Renault recognised broadband breakdowns were disrupting its business operations, it turned to its technology partner NPS (Network Professional Services), which deployed Accelerated 6300-CX routers to maintain Internet access through automatic failover to 4G mobile data services.
Costing $899, the Accelerated 6300-CX router has an embedded, carrier-certified cellular modem that provides Internet connectivity via 4G LTE and 3G cellular wireless data networks. The compact devices, which are designed and developed by a specialist engineering team based in Brisbane, are sold globally by US-based Accelerated Concepts Inc.
NPS installed an Accelerated 6300-CX at both Essendon Renault branches, configured to use Telstra's 4G network if ADSL-based broadband drops out. NPS controls the 6300-CX routers using the Accelerated View (AView) cloud-based management portal, which can remotely monitor, configure and update from one to more than 1000 Accelerated 6300-CX routers.
Les Hogan said the Accelerated 6300-CX routers would pay for themselves during their first use. "They're not overly expensive devices," he said.
"If it can keep us operational for four to six hours, so we can do a day's work, the damn thing's paid for itself. As well as the occasional Internet outage, we do get minor hiccoughs from time to time at one or other of the two dealerships.
"Even a short interruption means you become out of balance. So if you're non-operational, you're unable to do your work for two to three hours, then all of a sudden, you have to try and do 15 jobs within two hours and all these people arrive all at the same time.
"They are the sort of things we've looked at and we've gone 'because of that, this is our failsafe' and we can just rely on that. By avoiding Internet outages, these Accelerated devices stop those bottlenecks happening, which is good for business and good for customers. One incident and it's paid back. I'm happy enough with that."
For more information about Accelerated 6300-CX routers, visit www.acau.com.au
For media assistance, call John Harris on +61 8 8431 4000 or email john@impress.com.au.
About Accelerated www.acau.com.au
Accelerated Concepts, Inc. is a leading provider of enterprise wireless cellular network data hardware and services. Our solutions are used today in Fortune 500 companies and major Tier 1 telecommunications service providers. Founded in 2006 in Tampa, Florida, Accelerated Concepts, Inc. now has offices in Tampa, Florida; Chicago, Illinois; and Brisbane, Australia. Our executive team has more than 100 years experience in the telecommunications industry, including executive positions at IBM and AT&T. Accelerated Concepts, Inc. is privately held.
Related News
Accelerated strikes up new bands for the bush

Accelerated Concepts has launched 4G failover routers that support all carrier bands in Australia and New Zealand, including Band 28, boosting mobile broadband speeds for congested...
NBN problems help NPS win Accelerated award

NPS founder David MalcolmMelbourne-based NPS (Network Professional Services) has discovered an upside to NBN rollout delays by using the Aussie-designed failover routers to solve t...
Accelerated aims to speed up sales with NPS

Accelerated Concepts managing director Matt RamsayBrisbane-based Accelerated Concepts has appointed Melbourne's NPS (Network Professional Services) as a master reseller to sp...