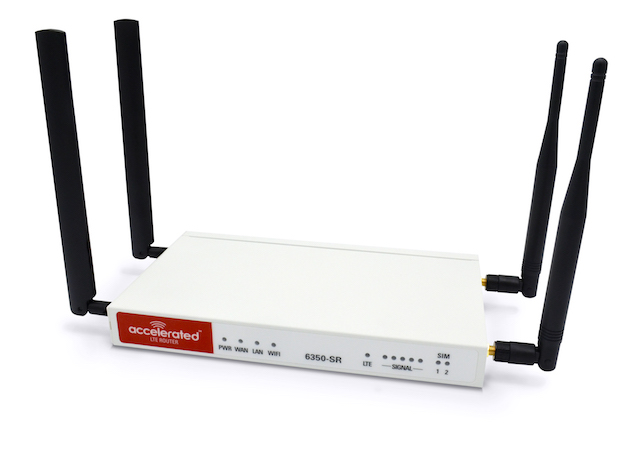 Accelerated Concepts has launched 4G failover routers that support all carrier bands in Australia and New Zealand, including Band 28, boosting mobile broadband speeds for congested city and bush networks.
The Aussie-designed band-aggregating routers, the just-launched Accelerated 6350-SR and the upgraded Accelerated 6300-CX, now support every carrier frequency in both countries, allowing connection to the least congested bands.
Brisbane-based Accelerated Concepts designs 4G failover routers. sold globally by US-based Accelerated Concepts Inc, which provide Internet access via cellular data networks when primary broadband links fail. As well as launching new and upgraded models, Accelerated has slashed its entry level price in Australia from $899 to just $499 at https://www.acau.com.au/.
Accelerated's extended built-in intelligent bandwidth support makes its 4G failover routers ideal for both congested city networks as well as rural areas where telephony and broadband data compete for the popularly supported frequency bands. The new routers also provide access to Band 28, on the 700 megahertz (MHz) frequency, which was formerly used by analogue television services in Australia.
David Malcolm from Network Professional Services (NPS), the company's master reseller for Australia and New Zealand, said Accelerated routers had broad appeal for customers that wanted consistent broadband connections. "We've sold them to everyone from car dealers and fashion houses in Melbourne and Sydney to a tourist resort in Far North Queensland," he said.
"As well as interest from New Zealand, we've had a strong response from businesses in the outback where it's too expensive to run fibre, it's too far out for DSL coverage and mobile data frequencies can become congested by the proliferation of single band 4G devices - which is also a problem in cities.
"Customers have found the 6300-CX is a great way to connect systems where you want real-time access without putting in a phone line, such as ATMs, vending machines and laundromats, as well as for automated 4G failover access when the primary broadband link drops out. Extended carrier band support makes it even more appealing because the newer bands, especially Band 28, are not congested.
"The new 6350-SR does everything the 6300-CX does, but adds WiFi support and five fully configurable local or wide area network ports, so you can use it to drive both your primary broadband link and your automated 4G failover system, if the wired link goes down."
Mr Malcolm said another benefit of the Accelerated routers was carrier aggregation. "This delivers 4G LTE CAT 6 performance with cellular data access speeds as fast as 300 megabits per second, which doubles your bandwidth capacity by using two bands at once from the same carrier," he said.
For more information about Accelerated 6350-SR and 6300-CX routers, visit www.acau.com.au.
For media assistance with interview, high-res images or to request a loan unit for media review, call John Harris on +61 8 8431 4000 or email john@impress.com.au.
About Accelerated www.acau.com.au
Accelerated Concepts, Inc. is a leading provider of enterprise wireless cellular network data hardware and services. Our solutions are used today in Fortune 500 companies and major Tier 1 telecommunications service providers. Founded in 2006 in Tampa, Florida, Accelerated Concepts, Inc. now has offices in Tampa, Florida; Chicago, Illinois; and Brisbane, Australia. Our executive team has more than 100 years of experience in the telecommunications industry, including executive positions at IBM and AT&T. Accelerated Concepts, Inc. is privately held.
Related News
Accelerated aims to speed up sales with NPS

Accelerated Concepts managing director Matt RamsayBrisbane-based Accelerated Concepts has appointed Melbourne's NPS (Network Professional Services) as a master reseller to sp...
NBN problems help NPS win Accelerated award

NPS founder David MalcolmMelbourne-based NPS (Network Professional Services) has discovered an upside to NBN rollout delays by using the Aussie-designed failover routers to solve t...