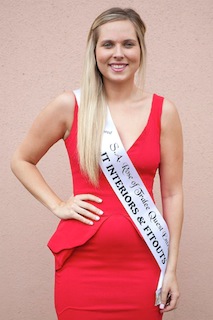 Irish-born South Australian Louise Thompson may have to kiss the blarney stone if she achieves her goal of becoming SA's Rose of Tralee on June 1.
Louise moved to Adelaide two years ago after leaving her home in the Irish country Kerry to pursue a career in Human Resources in Australia.
The international Rose of Tralee competition, which originated in Louise's home county of Kerry, celebrates Irish culture around the world while supporting local charities such as our own Can:Do 4 Kids.
Rather than focusing on looks like a beauty pageant, the Rose of Tralee aims to attract women with "aspirations, ambitions, intellect, social responsibility and Irish heritage".
Louise, who grew up watching on the Rose of Tralee finals on television, has family form in the competition: Her Aunt Clare was named Kerry Rose in 1986. "It'd be heaps good to be like my aunt and represent my new home back in Ireland," said Louise, who now lives in Glenelg.
"The folk back home love Australians, we often find them holding up the bars in Dublin, but my only worry is that the judges might think I have a funny accent."
Australia has a rich Irish heritage. The 2011 Census reports more than two million Australians identify themselves as having Irish ancestry.
Louise is one of seven SA women of Irish decent who will compete for the opportunity to represent the State for the title of 'Rose of Tralee Australia'. As well as the opportunity to compete nationally for the privilege to represent Australia at the Rose of Tralee Grand Final in Ireland in August, the South Australian winner also receives a return flight to Dublin, spending money.
The South Australian winner will be announced on June 1, at a grand ball at the Intercontinental Adelaide, to be hosted by Channel Seven reporter and former ABC Roving Reporter Tim Noonan. All excess proceeds from the event, which includes a silent auction, will go towards local charity Can:Do 4 Kids.
To arrange an interview or photos with Louise, call John Harris at Impress Media Australia on 08 8431 4000.
For more information go to:
http://roseoftralee.ie/community/userprofile/southaustraliarose
Related News
Men welcome at WIPM networking event

Men are welcome to join women project managers at Adelaide's Grand Chancellor Hotel this Friday to update skills to ensure success in major projects, businesses and even jobs.Women...
South East students log on for top forest expo

High school students studying construction skills in the South East are getting hands-on work experience by fabricating a key building for the Southern Hemisphere's largest forest ...