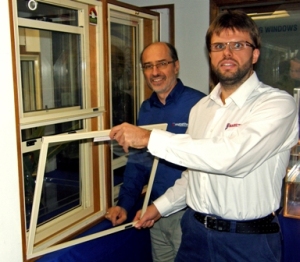 The SA-based company that pioneered retrofitting energy-saving window insulation in this State is launching an energy evangelism program to explain the environmental benefits of its system to business.
Since 2000, WinFocus Australia, which operates from a factory and showroom at Holden Hill, has sold the Magnetite window and door insulation system, which both reduces noise and saves energy in buildings.
After a boom in business during the past two years due to increased demand for safe and energy efficient insulation in homes, the family-owned business has launched its "Energy Evangelism" initiative to explain how businesses can benefit from the affordable and flexible Magnetite system.
Designed by the prestigious Massachusetts Institute of Technology (MIT) in the US in 1981, Magnetite is a retro-fitted secondary glazing system that secures optical-grade acrylic panels to the inside of a window frame using magnetic seals. This removable panel creates an insulating pocket of air in the window. Because the installation takes place from the inside and uses independent framing, the conversion is quick and hassle free for any type of window or door and in any building.
Independent tests demonstrate that Magnetite panels cut down unwanted noise, such as traffic racket, by as much as 70 per cent and reduce temperature "seepage" by as much as 60 per cent. For an average house, this can reduce the energy bills by hundreds of dollars annually.
A major attraction of the internally fitted Magnetite system is that it can be installed in any building, from a new construction to a heritage-listed building.
WinFocus founder and managing director Janusz Bejnarowicz said the Energy Evangelism program involved talking to business and community groups that were interested in reducing their environmental impact. "This month we are addressing a conference of 150 energy auditors and we will also speak to one of the metropolitan city councils," he said.
"The two main reasons for buying Magnetite are energy efficiency and noise reduction. It's interesting that our main 'competitor' is people doing nothing. For example, with road noise, a lot of people don't know it can be helped. Many people simply think 'I just have to put up with that racket'.
"However, once people start talking about their problems, that's good for our business. We saw this in 2007, when about 80 per cent of our inquiries were for noise reduction. Because of the public concern created by the Government and public discussions about energy efficiency, we saw a doubling of energy-efficiency inquiries from just 20 per cent to 40 per cent in that year – a level that has stayed consistent since."
WinFocus, which is the South Australian franchisee of the Magnetite system, employs eight people in the sale, manufacture and installation of the window insulation system. Since it started business, WinFocus has installed Magnetite panels in more than 1500 homes and businesses throughout Adelaide.
Mr. Bejnarowicz founded the business in 2000, after using Magnetite for his new house in Piccadilly, in the Adelaide Hills. "I looked around for double glazing to insulate it, but couldn't find it," he recalled.
"I found Magnetite in 2000 and thought 'this is just what I need'. I also discovered that Magnetite had no representation in SA, so I decided to set up my own business. It was a bit of a 'green change' because I'd always worked for others, in management at companies such as Jurlique and Inghams.
"It's that classic case of I liked the product so much I bought the business. In my house, I measured the use of energy in terms of the dollars we spent. We have used 40 per cent less energy since putting in Magnetite than before. But it's about more than cost savings - it increases living comfort, all year round."
The business began to grow rapidly several years later when Mr. Bejnarowicz was joined by his 31-year-old son Peter, who had previously worked in the Information Technology industry.
WinFocus general manager Peter Bejnarowicz said the business market was an obvious next step for the company. "We want to expand our share of the commercial market," he said. "To grow to where we want to be, we must increase that proportion. The Energy Evangelism program is an important step in that direction."


Call John Harris on (08) 8431 4000 or email jharris@impress.com.au.
Related News
Livestream explores Port's sounds of silence

A unique livestreamed radio show that explores after-dark soundscapes at historic spaces in Port Adelaide has attracted listeners from around the world. Called Broadcasts from e...
Global sales heat up for aircon software firm

Adelaide airconditioning software company DelftRed Simulation Technology has seen international demand heat up during the past year, now comprising nearly 10 per cent of its total ...