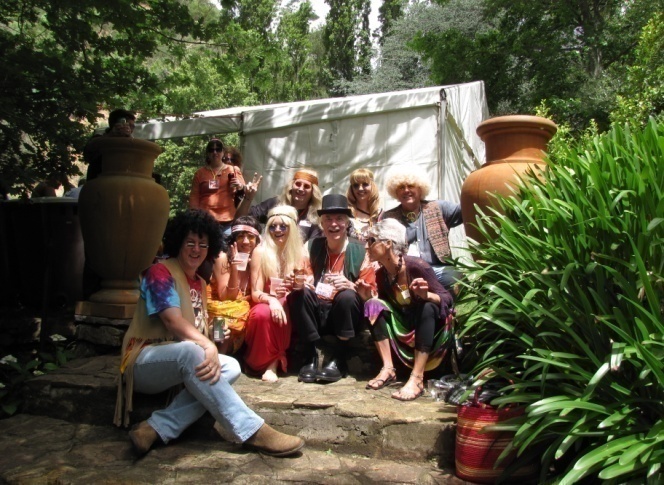 If you're goin' to Rundle Street East, be sure to wear some flowers in your hair on the last Sunday of October because flower power, paisley pants and hippie highs are back in fashion with Woodstock Revisited.
The corporate charity show, which kicks off at midday on Sunday, October 30, will occupy the north west corner of Rymill Park, opposite the Stag Hotel.
As well as a stack of music, munchies and a drop or two of patchouli oil, the show will have bars available for anyone whose psychedelic supplies have passed their use-by date.
Woodstock Revisited 2011 follows the sold-out success of four previous Woodstock events held at the former Waterfall Gully home of Alan Greig and Jane Mitchell, who last year moved to the Fleurieu Peninsula to run Leonard's Mill.
If you think the current generation of politicians is a pack of pretenders, they've got nothing on the crew lined up to entertain the reconstituted hippies, yippies and Adelaide Hillbillies for this afternoon of Peace, Love and "limited edition event merchandise".
Roger Daltry will front The Who, courtesy of John "Swanee" Swan, while Joe Cocker will croak out a few tunes, thanks to the man behind this year's Woodstock show, Mastermind Music's Shane Witham. Janis Joplin (Jackie Yeo), Carlos Santana (Peter Lymbo) and even the guitar-biting maestro himself Jimi Hendrix (Chris Finnen) will fill out the bill.
They'll get by with a little from their friends, a talented band including Phil Smith on piano, Steve Williams on guitar, Rob Norman on Hammond Organ, James Stewart-Rattray on bass, Livv Bafile on drums and Rowland Creighton on percussion. There's even a horns section, Dave Brooks (tenor sax), Nick Miller (trumpet) and Michael Cousins (trombone), and a pair of "heavenly angels", Deb Brunotte and Louise Pearson.
As well as performers including The Boomers, Bluescasters and Brother T & Band, the line-up has even slipped in Bah Na Na.
While organisers promise their show will go on, rain or shine, they probably hope for no repeat of the acres of mudfields that blossomed on Max Yasgar's farm after rain inundated the original Woodstock.
General admission is $59.95 but if you want to go the whole hog, the all-inclusive VIP ticket will set you back $250. Line up to buy 'em at Venuetix. For every little detail, check out www.woodstockrevisited.com.au.
Related News
See JavaScript everywhere at Wakanday 2012

Global software developer 4D this month presents Wakanday, a tailored day of seminars in Silicon Valley to proselytise its breakthrough Wakanda web business development toolset. A...
Livestream explores Port's sounds of silence

A unique livestreamed radio show that explores after-dark soundscapes at historic spaces in Port Adelaide has attracted listeners from around the world. Called Broadcasts from e...