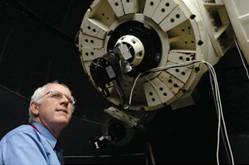 An Australian conference on albinism this month learned how one man with albinism had become an internationally successful professor of astronomy – despite having a severe visual disability.
More than five per cent of Australia's nearly 1300 albinos attended the Albinism Fellowship of Australia biennial conference in Melbourne on October 8 and 9. The two-day event – dubbed SPF for Spectacular Platinum Festival – covered topics ranging from genetics, visual acuity and brain development to professional opportunities and human rights.
Albinism is an inherited condition present at birth, characterized by a lack of pigment that normally gives color to the skin, hair, and eyes. The condition, which is found in all races, may be accompanied by eye problems and extreme sensitivity to sunlight. In Australia, the incidence of albinism is one in 17,000 – giving the country a total albino population of less than 1300 people. In South Africa, the incidence of albinism among the white population is one in 15,000 – while the incidence among the country's black citizens in one in 3900!
SPF 2011 was addressed by speakers from Australia, New Zealand, the United States, Malaysia and South Africa. The conference was attended by more than 150 people, many of them parents of children with albinism. In total, the event attracted 65 people with albinism. As well as dozens of snowy-haired youngsters, the conference was attended by many adult albinos who have established successful careers in areas from science and medicine to business and academia – all achieved with the severe visual problems associated with albinism.
Speakers including AFA secretary Dr. Shari Parker, who runs her own specialist medical practice in Sydney, New York-based photographer Rick Giudotti and former Adelaide man, Paul Delaney, who is a Professor of Astronomy at York University in Ontario, Canada.
Rick Giudotti is a former fashion photographer who in 1997 started a business called Positive Exposure, which specialises in photographing people with genetic differences including albinism. See http://www.positiveexposure.org/about.html for some of his stunning images.
Before joining York University, Paul Delaney had held a range of roles, including being the reactor physicist responsible for the operation of a nuclear research reactor for three years. You can view a video of Paul Delaney's presentation by clicking on this link to YouTube http://www.youtube.com/watch?v=AiMLmn61hLQ or on the embedded video below. For more information about the Albinism Fellowship of Australia, visit http://albinismaustralia.org/.
Related News
Green buildings pay off for Danny

Environmentally conscious South Australian builder Danny Pauley has won the only individual award in a national competition for excellence in green building design and construction...