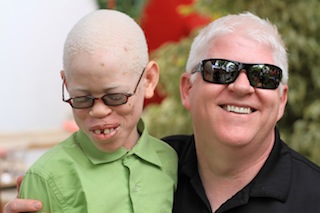 Peter Ash, the man who has raised global awareness of the crisis afflicting people with albinism in Tanzania, is visiting Sydney next week to engage Australian support for his campaign.
Peter Ash is the founder and CEO of Under the Same Sun, a Canadian charity that focuses its work on the horrific abuse experienced by persons with albinism in Tanzania. Peter's public advocacy of this issue includes speaking at the United Nations Human Rights Council in Geneva about the mutilation and murders of Tanzanians who have albinism.
In Tanzania, persons with albinism face horrific challenges including epidemic rates of skin cancer, widespread social discrimination fuelled by powerful myths, the lack of low-vision aids and sunglasses and the horror of a rapidly growing industry in the sale of albino body parts.
This evil activity is driven by the belief in some areas that the body parts of persons with albinism possess magical powers that can bring riches if used in potions produced by local witchdoctors.
To date, reports suggest that 78 persons with albinism have been brutally attacked and their body parts hacked off and sold to witchdoctors. The attacks comprised 62 murders and 16 mutilations.
Peter Ash says these numbers dramatically underrepresent the true situation in the east African country. "We believe there are hundreds and hundreds of killings in Tanzania, but only a small number are being reported to the police," he says."There is belief that if you have relations with a girl with albinism, you will cure AIDS. Because of this false belief, many girls with albinism in Tanzania are being raped."
Albino hunters kill their victims and harvest their blood, hair, genitals and other body parts for potions that witchdoctors say bring luck in love, life and business.
On Sunday, March 4, Peter Ash will speak in Sydney about albinism, including his experiences of assisting persons with albinism in Tanzania, at a seminar at St Vincent's Private Hospital, Darlinghurst. The 1-4pm event is hosted by the Albinism Fellowship of Australia in NSW. *
Albinism Fellowship of Australia secretary Dr. Shari Parker says Peter Ash's visit provides a unique opportunity to hear an inspirational speaker. "Anyone who attends will learn more about the plight about our fellow people with albinism in Africa," she says.
Albinism is a rare, non-contagious, genetically inherited condition that occurs in both genders regardless of ethnicity, in all countries of the world. The condition results in a lack of pigmentation in the hair, skin and eyes, causing vulnerability to sun exposure and bright light. Almost all people with albinism are visually impaired, with the majority being classified as "legally blind".
While numbers vary, in North America and Europe, it is estimated that one in every 20,000 people have some form of albinism. In Tanzania, and throughout East Africa, albinism is much more prevalent, with estimates of one in 2000 people being affected.
The term "person with albinism" is preferred to the term "albino".
Email secretary@albinismaustralia.org to register to attend this event.
For media assistance and to request interviews, call John Harris on 08 8431 4000 or email jharris@impress.com.au.
The Albinism Fellowship of Australia (AFA) is a national, non-profit organization established in 2005. The fellowship is run by volunteers who all have been personally touched by albinism in some way. The AFA's key purpose is to provide support, education and fellowship to those with albinism, parents of children with albinism as well as their families and friends. While the albinism community in Australia is only small, the AFA provides a united voice to encourage productive developments and support within business, government and media.
Related News
Domain claims SA dealer spot for Lanier-Ricoh

Adelaide printer specialist Domain Technologies has announced its appointment as a Lanier-Ricoh Authorised Copier Dealer for South Australia. Domain Technologies promotes itself a...
Poets see the light at church

A conga line of poets who have seen the light at Norwood's St Bart's Church will share their inspiration in a public poetry reading on Saturday November 10. Lit by St. Bart's reno...
IT Pros urge Microsoft to save TechNet

Australian IT professionals are campaigning for Microsoft to reverse its decision to retire the popular TechNet Program, which is widely used to get in-depth technical knowledge of...