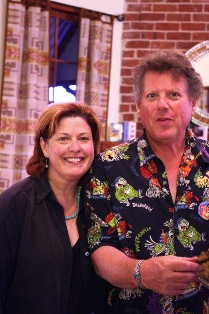 When Jo Stewart-Rattray finishes her day job defending Australia's information borderlands, her mind turns to her abiding passion, running a boutique bed and breakfast in SA's Clare Valley wine-making region.
Since buying it five years ago, Jo and husband James have transformed the former schoolhouse into Old Church School Carlsruhe, a stylish executive hideaway complete with its own tennis courts.
Carlsruhe is a tiny rural community about 30 minutes south east of Clare, which is conveniently located just an hour's drive from the State's other famous wine-making district, the Barossa Valley.
Jo and James Stewart-Rattray fell in love with the Clare Valley when they returned to SA in the mid 1990s, deciding to build their dream home in Auburn, just south of Clare.
Jo, who is information security director of national accounting firm RSM Bird Cameron, makes the daily 90-minute commute to Adelaide, except when she is working interstate.
When the couple learned the old Carlsruhe schoolhouse - latterly used as a Sunday school by the local Lutheran church - was on the market, they made an offer as the For Sale sign was being hammered in.
Several years later, they have unveiled the renovated Old Church School Carlsruhe, a luxurious executive retreat made welcoming by a blazing fire, modern kitchen and hand-picked furniture and fittings.
The B&B stands out with its pueblo sensibility that comes from the Stewart-Rattray's love of the American south west: As well as Navajo paintings and artefacts, the two-bedroom building, with a huge lounge in the former main schoolroom, is decorated with tiles from the region and as far afield as Morocco.
Surrounded by fields on a rolling vale, the building even includes a touch of South Australian history: Kitchen benchtops are made from Oregon joists salvaged from the Centennial Hall demolition while a seven-metre beam retrieved from a demolished Port Adelaide warehouse provides a lintel in the kitchen with an offcut used for the mantelpiece above the built-in combustion stove.
Guests are welcomed by a bottle of Flete Block Shiraz made from the Stewart-Rattray's own vineyard and a kitchen stocked with everything necessary for a hearty country breakfast. Other meals can be cooked in the fully-equipped kitchen, although only hermits would miss out on visiting local wineries or the renowned restaurant at the Rising Sun Hotel in Auburn.
Although the B&B's website is still under development, the Old Church School Carlsruhe is available for weekend and longer stays by emailing James at desertdogs@internode.on.net.
Related News
Klaus points cycle to Canada to fight cancer

Executive Chairman of 1stAvailable.com.au, charity cyclist and cancer survivor Klaus Bartosch will this week travel halfway round the world to ride 260km in Canada's Enbridge Ride ...