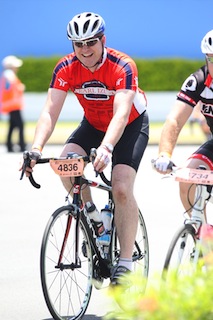 Executive Chairman of 1stAvailable.com.au, charity cyclist and cancer survivor Klaus Bartosch will this week travel halfway round the world to ride 260km in Canada's Enbridge Ride to Conquer Cancer.
Klaus, well known for his successful tenure at Hostworks, in August last year embraced cycling a great way to raise money and awareness for the fight against cancer by joining the inaugural Rio Tinto Ride to Conquer Cancer. Prior to preparing for this ride he had never ridden more than 5klm in his life!
In a 240km ride over two days, Klaus led a 15-strong team of cyclists that raised $50,000 toward cancer research. In total, 1366 riders took part in the Brisbane event, raising $4.7m – and breaking the Queensland fundraising record in the process.
Klaus' team is now called Vision Crusaders, which will again raise many thousands of dollars in this year's Rio Tinto Ride to Conquer Cancer, in August.
However, first, Klaus will travel to the Canadian fundraising ride to contribute his enthusiasm and energy to promote awareness of the event. Already, he has been invited to appear, with his bike gear, on the Morning Live Show of Toronto TV station CHCH on June 7 http://www.chch.com/index.php/morning-live-blog/itemlist.
Klaus said he hoped that his 23-hour odyssey from Brisbane to Toronto would make even more people aware of the crusade against cancer. "Cancer directly affects one in two Australians and indirectly affects almost everyone," he said.
"I've lost family, friends and colleagues to this horrible disease and am reminded every month, as a new friend is diagnosed, of why I ride – to raise money for cancer research to stop this disease!
"Through the generosity of a Denver-based company Spatialinfo Inc, I secured the minimum $2500 required to be eligible to ride in the Enbridge Ride to Conquer Cancer.
"However, this ride is 260klm over two days, with 160klm on the first day. I've never ridden more than 120klm in one day, so this will be a massive challenge - but all for a good cause! The media coverage of my efforts that has been secured both locally and in Canada will help to bring even more attention to this great cause."
For information about Klaus' Canadian fund-raising event, or about how to contribute to Vision Crusaders, visit the team's website at www.visioncrusaders.com.
Related News
SA wine dynasty uncorks vintage film

SA's wine history unfolds in a just-released film about the history of the State's iconic wine-making dynasty, the Hamilton Family, spanning 176 years of vinicultural life &am...
MODERNMAN warns against data complacency

Adelaide-based MODERNMAN Systems Consulting warns that many schools and education agencies risk exposing private data through complacency about computer network security. Increase...
Eden's $1250 for World Vision tops 2012 tally

Adelaide student Eden Harris has topped her 2012 tally by raising $1250 to assist people in the developing world through giving up food and furniture during World Visiion's 40 Hour...