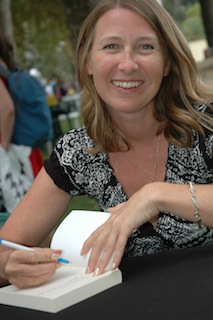 Swedish-born Adelaide author Anna Solding, whose debut novel has received rave reviews, will sign copies of her best-selling book, The Hum of Concrete, in Norwood this weekend.
Although English is not Anna's mother tongue, the style of her writing in The Hum of Concrete has been praised as 'enchanting', 'engagingly different', 'sensuous and heartfelt' by book critics at newspapers including The Advertiser, The Canberra Times and The Age.
Readers agree! Right now, The Hum of Concrete is on the bestsellers' shelf in Dillons Norwood Bookshop, where Anna will sign copies from midday, on Saturday, April 28.

"I couldn't be happier," says Anna. "After all these years of writing, it feels like everything has fallen into place. It is wonderful to see so many people enjoy my work."
The Hum of Concrete is set in the Swedish city of Malmö, where Anna grew up, and deals with issues of love, longing, sexuality, motherhood and community. According to The Canberra Times, Anna writes about her characters with 'unadorned honesty and humanity
Anna left Sweden for Adelaide in 1999 for a one-year university exchange. In the subsequent 14 years, one university course led to another and, after finishing a Masters as well as a PhD in Creative Writing at The University of Adelaide, Anna is now happily settled in Kensington Park.
The Hum of Concrete by Anna Solding - feeling the heart of the city.å
PB 256 PP 198 x 129 ISBN 9780987226501 $24.99 Fiction MidnightSun Publishing March 2012. eBook ISBN 9780987226525
MidnightSun Publishing has grown out of a disenchantment with the established publishing houses in Australia. We know there are plenty of fabulous manuscripts about unusual topics floating around, but publishing new and unknown writers poses a big risk. MidnightSun is prepared to take that risk. We want our readers to be entertained. We want to challenge, exåcite, enrage and overwhelm. Therefore, we publish books in any genre that have touched us in some way. Because we are a new publishing company, striving to become established, we expect our writers to be enthusiastic about their own work and able to promote it in the wider community. MidnightSun Publishing aims to reach a wide audience by publishing eBooks as well as traditional books. With us, you will be able to find books in whatever formats you prefer.
Related News
Klaus points cycle to Canada to fight cancer

Executive Chairman of 1stAvailable.com.au, charity cyclist and cancer survivor Klaus Bartosch will this week travel halfway round the world to ride 260km in Canada's Enbridge Ride ...