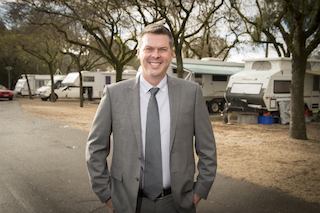 Australia's largest tourist park marketing & member service organisation Top Tourist Parks of Australia (TTPA) has a new national CEO from the allied caravan and camping industry.
He is Stuart Livingstone, 41, who departs the Caravan and Camping Industry Association of SA after 10 years. In his capacity as CEO he successfully managed the SA Trade Division and worked in partnership with Caravan Park Associations across Australia on several national committees and special projects.
The TTPA group, headquartered in Adelaide, has over 210 Member Parks across Australia, and in excess of 100,000 traveller club members. This pivotal role will be ensure effective operational and financial management and build upon the established strong brand reputation of Top Tourist Parks.
Chairman of TTPA, Richard Davis OAM, said Mr Livingstone would continue the established work of building relationships with key stakeholders, including Member Parks, customers, government authorities and industry bodies. He replaces popular retiring CEO Bill Pycroft.
"Stuart has an established leadership track record in the caravan and camping industry, hospitality, tourism and service industries with a real commitment to quality customer service," Mr Davis said
"He has led the Caravan and Camping Industry Association of SA through sustainable growth whilst establishing a trusted reputation and brand loyalty with particular skills in marketing, strategy development and on-line promotions that will build our national member growth.
"The industry is growing and we will reinforce TTPA as a leader in the national and international marketplace. Our business is not just about Australians traveling our great land, but also attracting the international adventure and lifestyle tourist market to share the experience of travelling on a sensible budget and meeting real Australians along the way.
"Our business aims fit with Federal and State Government tourism plans around the nation and we look forward to working with them to build our industry to support its many thousands of employees," Mr Davis said.
Incoming CEO Stuart Livingstone said: "The Top Tourist Parks of Australia brand is incredibly strong throughout Australia, and our passionate and professional TTP endorsed caravan park owners and managers are the backbone of this strong market position.
"Expanding the national network of TTP endorsed parks throughout Australia and further developing brand loyalty with TTP club members are high priorities. I'm very excited to be part of such a progressive and member centric organisation," he said.
Mr Livingstone said stakeholder involvement was paramount as the group travels united to build TTP beyond a beautiful destination and into a multifaceted traveling companion.
"A desire to create family memories and traditions is driving a resurgence in caravan and tourist park holidays, with parents keen to spend time with their children in traditional holidays away from iPads and Smartphones."
Mr Livingstone is an industry nominee as a Board Member of the South Australian Tourism Industry Council, a multiple winner in SA Tourism Awards in Tourism Marketing and has recently developed a new national caravan and camping industry member endorsement and consumer activation brand to be rolled out in 2015.
Stuart will begin his new role on 18 August.
Self-drive figures rising – says SA Tourism Minister…
Commenting on the appointment, SA Tourism Minister Leon Bignell said caravan and camping holidays were an important sector of the South Australian tourism industry.
"The self-drive market delivers an economic benefit for the State of more than $1.6 billion every year, and is forecast to be worth $2.1 billion by 2020," he said.
"In the 12 months to March, the number of visitor nights spent in South Australia's caravan parks and campsites grew by 41 per cent. The South Australian Tourism Commission is working hard to encourage even more people to have a caravan or camping holiday in South Australia.
"With self-drive holidaymakers representing 49 per cent of the visitors coming to South Australia from interstate, five new Touring Routes are also being developed to encourage caravaners and campers to see more of our State.The routes include McLaren Vale to Clare, Adelaide to Eyre Peninsula via Yorke Peninsula, and Mt Gambier to Adelaide via Kangaroo Island.
"The continuing growth of the caravan and camping holiday sector will help us achieve our goal of an $8 billion tourism industry in South Australia by 2020," said Minister Bignell.
For further information, please contact Richard Davis, 0418 812 455 or e-mail rhd@adam.com.au
Stuart Livingstone, 0419 804 951 or e-mail livingstone@internode.on.net
Media Assistance, Mike O'Reilly, 0414 882 505. Call for high-res photos.
To find out more about Top Tourist Parks, visit: www.toptouristparks.com.au
Top Tourist Parks of Australia
ABN 34 006 902 727
Head Office: 49 Henry Street,
Stepney, South Australia 5071
Related News
Anna tastes success with debut novel

Swedish-born Adelaide author Anna Solding, whose debut novel has received rave reviews, will sign copies of her best-selling book, The Hum of Concrete, in Norwood this weekend. Al...
Sitebook cures project pain

Australian-developed Sitebook has made managing building projects as easy as using your smartphone by adding project management tools to its affordable building safety app. First ...
South East students log on for top forest expo

High school students studying construction skills in the South East are getting hands-on work experience by fabricating a key building for the Southern Hemisphere's largest forest ...