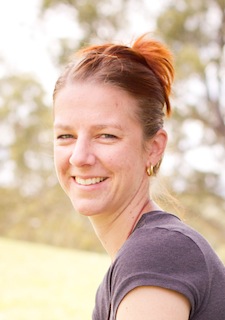 Kim Lock's first novel, Peace, Love and Khaki Socks, has attracted such strong pre-orders that publisher MidnightSun Publishing has ordered a second print run – a week before it is launched.
Set in Darwin, Peace, Love and Khaki Socks tells the story of a young 'army wife' who finds herself unexpectedly pregnant. The main character's tumultuous journey explores the patriarchal culture inside the Australian Army and challenges many cultural conceits surrounding pregnancy and childbirth. At the heart of the story is the woman's controversial choice to homebirth.
Debut author Kim Lock, who has drawn on insights from her own life as an army wife, will launch Peace, Love and Khaki Socks, at the SA Writers' Centre in Adelaide on Friday, April 26.
MidnightSun Publishing founder Anna Solding said the novel, which has been promoted online before its launch, had generated such strong pre-orders that the second print run was necessary. "I've never heard of this happening before," she said.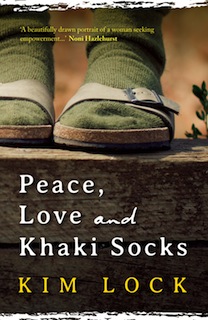 "We've had such strong interest that unless we get the second print run ordered, we'll run out of copies during the launch campaign. It's a very promising start for this great story."
Advance copies of Peace, Love and Khaki Socks have already drawn strong words of praise from readers, including renowned Australian actor Noni Hazlehurst and best-selling Australian parenting author, Pinky McKay, who describes Kim's novel as "an engaging rollercoaster ride of emotions that will have you laughing, crying and cheering. You won't want to put it down!"
Barossa Valley resident Kim Lock, who was born in Mount Gambier and now lives in Lyndoch, started writing her novel just a few weeks after the birth of her second child – a prolonged process of creative gestation made more challenging by a military husband who was often away on service.
Kim, who is now 31, has worked on Peace, Love and Khaki Socks for the past three years. "It's a little piece of my heart," she said.
"While I do feel nervous about the release of my first book, it is a dream come true - because I spent virtually all my childhood dreaming of one day becoming a published author."
MidnightSun Publishing is releasing Peace, Love and Khaki Socks just in time for Mother's Day, on May 12. The launch calendar for the novel includes:
Friday, April 26: Launching the book at the SA Writers' Centre, Rundle Street, Adelaide.
May 10-13: Kim Lock and her publisher Anna Solding will launch the book in Darwin, where it is set.
Friday, May 24: Kim Lock will sign copies of her book at The Raven's Parlour Bookstore, Tanunda, from 11am. All are welcome; entry is free.

Saturday, June 2: Kim Lock and Anna Solding will take part in a panel discussion at the Emerging Writers' Festival in Melbourne.

Sunday, July 7: Kim Lock will speak at the Mount Gambier library, where she nurtured her love of books as she grew up in the southern SA town.
Photographs available on request:
• Book cover for Peace, Love and Khaki Socks
• Author's photograph (credit: Billie Wallace-Yarrow)
For more information, call Anna Solding at MidnightSun Publishing on 0400 047 426
Related News
Green builder unveils Zero Carbon Home design

Aspect Living today unveils its innovative design for an affordable, environmentally-friendly home in SA's pioneering Zero Carbon Challenge. Woodside-based Energy Aspect Living ...
Klaus points cycle to Canada to fight cancer

Executive Chairman of 1stAvailable.com.au, charity cyclist and cancer survivor Klaus Bartosch will this week travel halfway round the world to ride 260km in Canada's Enbridge Ride ...
Tech monocultures hold danger

Education technology expert Leo Gaggl has warned IT consumers against the dangers of accepting technology monocultures over competitive diversity. In a blog posted on Saturday, Mr...