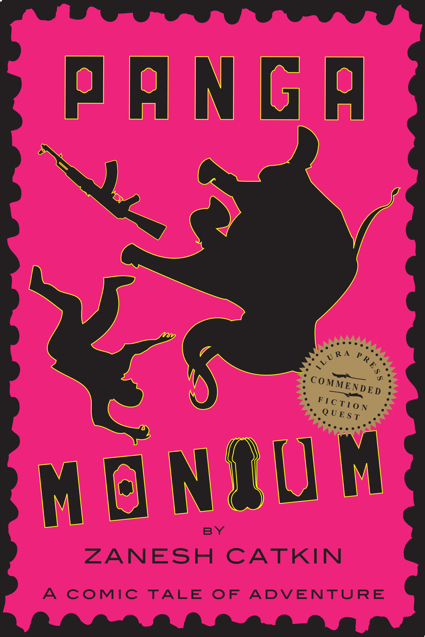 Australia's newest publisher, MidnightSun Publishing, this week launches its second novel, Pangamonium, a witty critique of global capitalism by author Zanesh Catkin.
In Pangamonium, Francis is a journalist looking for a big story in the tiny kingdom of Panga. Despite trying to maintain his usual selfishness, he is lured into liberating a group of child slaves making sex toys for the West.
Toss in an African pilgrim named Easter on a quest to find his grandfather's grave filled with pirate gold, a military regime oppressing the citizens of Panga, and a Bollywood romance — and pandemonium ensues.
With a striking cover design by Polly Leddar, Pangamonium will be launched at the SA Writers' Centre this Friday, July 20.
Pangamonium was described as "'a riot!" by Thomas Shapcott, judge of the IMPAC Dublin Literary Awards. "This novel is so funny I laughed aloud in my sober study, and it is so frighteningly sharp, I cut my finger and my heart turning the pages. A winner.''
"Along with its farce and game-playing, Pangamonium is a sharp critique of global capitalism. Lively and intelligent..." adds Nigel Krauth, winner of The Australian/Vogel's Literary Award
MidnightSun says of the author: "Zanesh Catkin was horribly disfigured in a childhood accident; as a result he lived much of his life hidden in attics. He was taken in by a kind family from Minnesota, who offered a loving home and some plastic surgery. This is his first novel."
If Pangamonium is as entertaining as this thumbnail bio, we're in for a ripper read.
For more information, visit http://www.zaneshcatkin.com or http://www.midnightsunpublishing.com.
For review copies of Pangamonium, contact MidnightSun founder Anna Solding editor@midnightsunpublishing.com
About MidnightSun Publishing www.midnightsunpublishing.com
MidnightSun Publishing has grown out of a disenchantment with the established publishing houses in Australia. We know there are plenty of fabulous manuscripts about unusual topics floating around, but publishing new and unknown writers poses a big risk. MidnightSun is prepared to take that risk. We want our readers to be entertained. We want to challenge, excite, enrage and overwhelm. Therefore, we publish books in any genre that have touched us in some way. Because we are a new publishing company, striving to become established, we expect our writers to be enthusiastic about their own work and able to promote it in the wider community. MidnightSun Publishing aims to reach a wide audience by publishing eBooks as well as traditional books. With us, you will be able to find books in whatever formats you prefer.
Related News
Global sales heat up for aircon software firm

Adelaide airconditioning software company DelftRed Simulation Technology has seen international demand heat up during the past year, now comprising nearly 10 per cent of its total ...