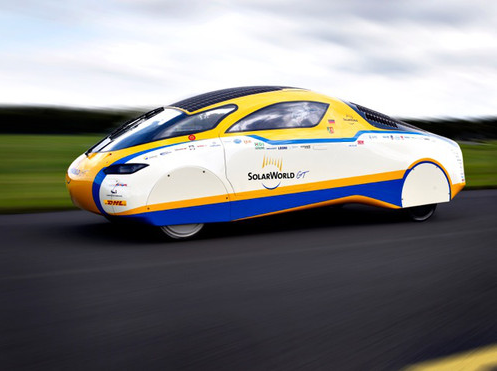 An award-winning German solar car that last week travelled 3000km from Darwin to Adelaide is now heading for Sydney as the next stage of an odyssey to circumnavigate the world.
The two-seater solar electric car, SolarWorld Gran Turismo (SolarWorld GT), is currently en route to Sydney in the final stage of its crossing of Australia. The solar car is expected to arrive at the Sydney Opera House on Wednesday 2nd November.
SolarWorld GT last week successfully completed the first stage of its Australian odyssey by participating in the World Solar Challenge, a 3000km journey from Darwin to Adelaide, which attracted 37 solar cars from 20 countries. All 37 vehicles were powered by the same amount of energy required to run a hair dryer!  SolarWorld GT won the Design Award for the 2011 World Solar Challenge.
After leaving Australia, SolarWorld GT will drive through New Zealand, then traverse several countries from four more continents, comprising North America, North Africa, Europe and Asia. The circumnavigation of the globe will cover about 34,000km with two equatorial-crossings over one year.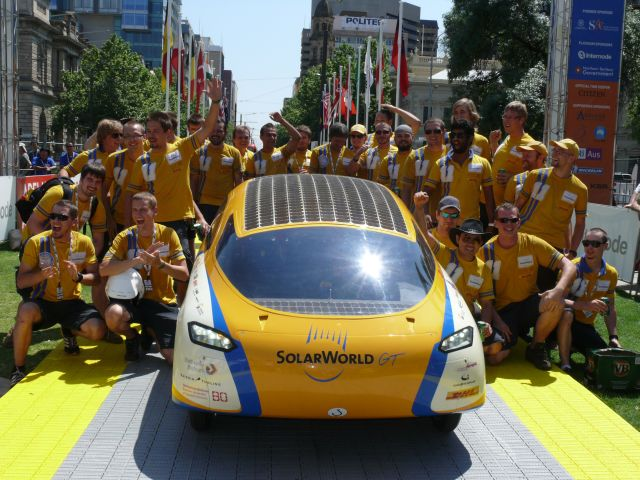 For an officially recognised circumnavigation, SolarWorld GT will need to travel at least 28,500 kms by land.  When this event is finished, the SolarWorld GT will fulfill various world records.  In the Guinness Book of World Records, the event will be recorded as the longest driven route with a solar car.
Since 1999, students from Germany's Bochum University of Applied Sciences have developed solar cars, which are powered only by the energy of the sun. SolarWorld GT is the fifth car from the team.
All necessary work – planning, logistics and construction – is completed by students during their studies. The 'solar chariots' of the project from Bochum rank among the best and have been highly awarded, with a variety of international prizes for technology and design innovation. The project is made possible with the long-term support of many companies.
Aiming for the SolarWorld GT to live up to its name, the students have set an ambitious goal – to circumnavigate the globe in a fully self-sufficient solar energy powered vehicle for the first time in history! Under real conditions, the circumnavigation will demonstrate the performance ability and suitability for daily use of vehicles of lightweight design and high energy efficiency.
The entirely self-sufficient driven two-seater, with usual automobile dimensions, is expected to stimulate further interest in renewable energies and their potential. The Solar Car team considers itself as an ambassador for sustainable mobility, developed and built by young future engineers from North Rhine-Westphalia, who are presenting the trademark 'German Engineering' in an entirely new manner.
Route Map Adelaide to Sydney October 26th to November 2nd, 2011

The end of the stage is Sydney. The teams' estimated arrival day could be on November 1 or 2, 2011.  The exact arrival date depends on the weather conditions (solar radiation), and they could even arrive two days early.
* arriving at the Sydney Opera House is subject to necessary approvals
| | | | |
| --- | --- | --- | --- |
| Date | Start      | End    |  Distance |
| Wed 26 Oct  | Adelaide    | near Lameroo SA    |  201 |
| Thu 27 Oct   | near Lameroo    | near Kulwin VIC |  205 |
| Fri 28 Oct | near Kulwin    | near Hay NSW    |  248 |
| Sat 29 Oct    | near Hay    | Narrandera NSW |  173 |
| Sun 30 Oct               | Buffer    |   |   |
| Mon 31 Oct    | Narrandera    | Coolac NSW    |  20 |
| Tue 01 Nov    | Coolac    | Marulan NSW    |  205 |
| Wed 02 Nov    | Marulan    | Sydney    |  17 |
For further media information or interviews, please contact:
Tim Skerra or Matthias Wiemers
Tel: +61 0411 201 373
tim.skerra@hs-bochum.de
matthias.wiemers@hs-bochum.de
http://www.hochschule-bochum.de/en/solarcar/circumnavigation.html  
Related News
'Sleep doctor' tech teaches to calm kids

Adelaide's "Baby Sleep Doctor" Dr Brian Symon has embraced technology, including a just-launched smartphone app', to help parents calm their children for a good night's sleep. Cal...
Tech monocultures hold danger

Education technology expert Leo Gaggl has warned IT consumers against the dangers of accepting technology monocultures over competitive diversity. In a blog posted on Saturday, Mr...
Students look on city with fresh eyes

Students at Eynesbury Senior College tomorrow aim to raise awareness about homelessness by using a camera lens to look at our city with fresh eyes. Running 3.30-5.30pm tomorrow (F...