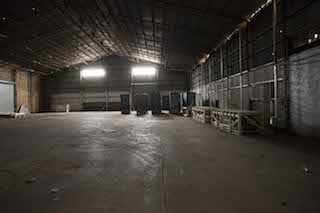 A unique livestreamed radio show that explores after-dark soundscapes at historic spaces in Port Adelaide has attracted listeners from around the world.
Called Broadcasts from empty rooms, the initiative by Sasha Grbich and Heidi Angove aims to investigate the aural potential of uninhabited places as part of the FELTmaps project http://www.feltspace.org/current_project.php.
During the past month, the live-streamed Internet radio show has connected audiences to these inaccessible urban landscapes, broadcasting atmospheric sounds from a different deserted building around the Port each Saturday night.
Each broadcast has attracted from 200 to 300 listeners, with about 20 per cent coming from overseas.
The first three broadcasts emanated from an empty wool store on St Vincent Street; the old Port Adelaide Post Office; and Harts Mill, South Australia's longest continuously serving flour milling enterprise, which operated from 1855 to 1980. The final session will broadcast from Torrens Island Quarantine Station from 7pm on Saturday April 26.
Sasha Grbich said the project arose from the desire to explore abandoned places. "What we love about this project is the way it pays attention to empty places which have uncertain futures," she said.
"We're also interested in the experience of listening in live to these sometimes derelict, dangerous night-time places while tucked up safely at home."
Inspired by the ever-expanding maker and Internet of Things movements, Heidi and Sasha have connected a Raspberry Pi * to studio-quality sound equipment. They then livestream the sounds of the localised space via 3G to the Internet. This entire kit fits in a medium-sized box and is powered by a small form factor battery, commonly used in golf carts.
You can listen to Broadcasts from empty rooms by visiting http://broadcast.sashagrbich.com
* The Raspberry Pi is a credit-card sized computer that plugs into your TV and a keyboard.
Related News
Global sales heat up for aircon software firm

Adelaide airconditioning software company DelftRed Simulation Technology has seen international demand heat up during the past year, now comprising nearly 10 per cent of its total ...
Robyn's way to less stress au naturel

Adelaide-based marketer Robyn Lee has launched a new business that aims to show people how to beat the negative effects of stress through education and knowledge. Called Evolving ...