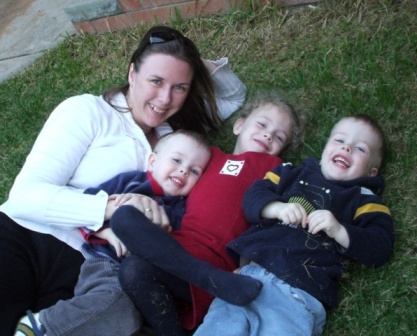 A just-launched savings book developed for entertaining children offers ways that Adelaide parents can escape the squeeze of high interest rates, petrol prices and rising food costs.
The Kids Around Town Great Ideas & Savings Book suggests a wide range of ways for families to save money in many areas of their spending, especially where it involves keeping the kids entertained on a budget.
With proceeds from the book raising money for a special cause, Kids Around Town has had an overwhelming response from South Australian identities and family owned and operated businesses who want to meet the needs of families.
The idea for Kids Around Town came from mother of three Sheree Hyde, who was seeking a fresh, useful, healthy and affordable fundraiser for her local kindergarten. When she failed find an existing way that met these criteria, she decided to create an innovative idea that could benefit all parents and families. After much talking with parents and brainstorming with businesses about their needs, Kids Around Town was born.
Sheree said one of the growing problems for many families was the continually rising costs of mortgage repayments, petrol and food. "Finding ways to make ends meet is one of the primary concerns in most households," she said.
"The book contains over 230 vouchers with savings valued at more than $5000! There are savings to be made all over Adelaide. Examples of the amazing businesses that are represented in Kids Around Town include Wiggly Worms, Toyworld, The AFL Store, Radio Rentals, Rebel Sport and the list keeps going...With party supplies, entertainment, holiday destinations, food, goodies, health services and treats for grown-ups, there is truly something for everyone."
Costing $28, Kids Around Town delivers real value for money, paying for itself in a couple of family outings, as well as offering a handy guide of what is available for kids and families of South Australia.
Kids Around Town includes informative articles on a range of issues including health, development, safety and fun. Kids Around Town is also very privileged to have contributions from well known children's storytellers and identities Mem Fox and Dorinda Hafner.
There are competitions galore – with a different prize drawn every two months, plus prizes for fundraising groups. The book is available until the end of the year as a fundraiser for local schools, social clubs, sporting and community groups. More than one third of the sale price goes to the fundraising group!
Kids Around Town will be available on behalf of the McGuinness McDermott Foundation at this year's AFL West End Slowdown on October 6. It will also be at Playgroup at the Zoo on October 22. If you would like to purchase a copy, visit www.kidsaroundtown.com.au or ask your local community or school fundraising group if they can place an order for you.
Related News
Marcelo catches business bug in Australia

Brazilian entrepreneur Marcelo Salviati, who migrated to Adelaide last year, has launched an Australian business to import products including a nifty electric bug-catching de...
Green buildings pay off for Danny

Environmentally conscious South Australian builder Danny Pauley has won the only individual award in a national competition for excellence in green building design and construction...