The United Nations Association of Australia has launched its Media Awards for 2014 with a call for journalists in make their nominations before September 1, 2014.
As a non-profit, non-governmental community organisation, UNAA has published its 'Call for Nominations' flyer (see below) to raise the profile of the awards and attract more nominations.
The Media Awards is a prestigious national awards program that recognises those journalists, producers and editors, who seek to promote understanding and awareness about humanitarian and social justice issues in our society and stimulate public debate.
The deadline for nomination is September 1, 2014. Full details are at www.unaavictoria.org.au.
For more information about the awards, contact United Nations Association of Australia (Victorian Division) Communications Officer Maja Ristovska on 03 9670 7878. or email communications@unaavictoria.org.au.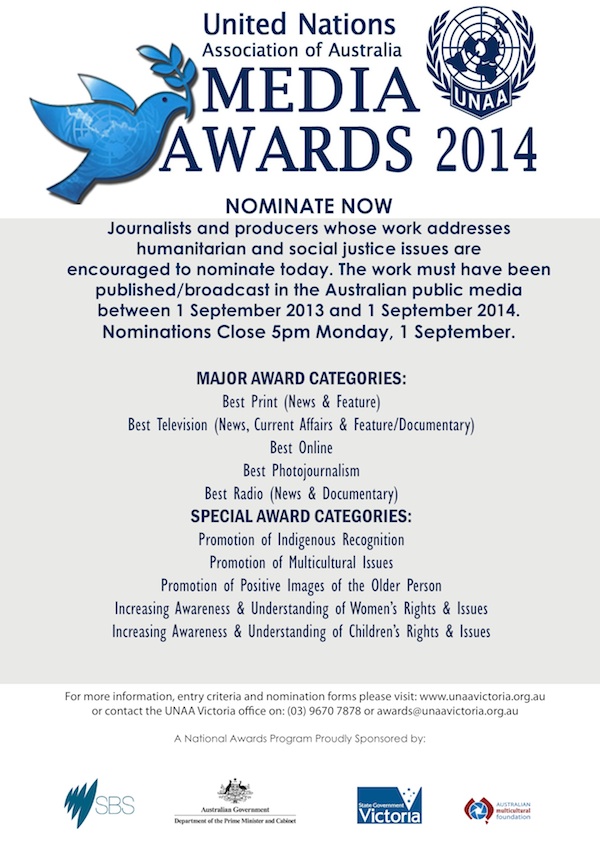 Related News
Global sales heat up for aircon software firm

Adelaide airconditioning software company DelftRed Simulation Technology has seen international demand heat up during the past year, now comprising nearly 10 per cent of its total ...
German solar car chases the sunrise to Sydney

An award-winning German solar car that last week travelled 3000km from Darwin to Adelaide is now heading for Sydney as the next stage of an odyssey to circumnavigate the world.The ...