The United Nations Association of Australia has launched its Media Awards for 2014 with a call for journalists in make their nominations before September 1, 2014.
As a non-profit, non-governmental community organisation, UNAA has published its 'Call for Nominations' flyer (see below) to raise the profile of the awards and attract more nominations.
The Media Awards is a prestigious national awards program that recognises those journalists, producers and editors, who seek to promote understanding and awareness about humanitarian and social justice issues in our society and stimulate public debate.
The deadline for nomination is September 1, 2014. Full details are at www.unaavictoria.org.au.
For more information about the awards, contact United Nations Association of Australia (Victorian Division) Communications Officer Maja Ristovska on 03 9670 7878. or email communications@unaavictoria.org.au.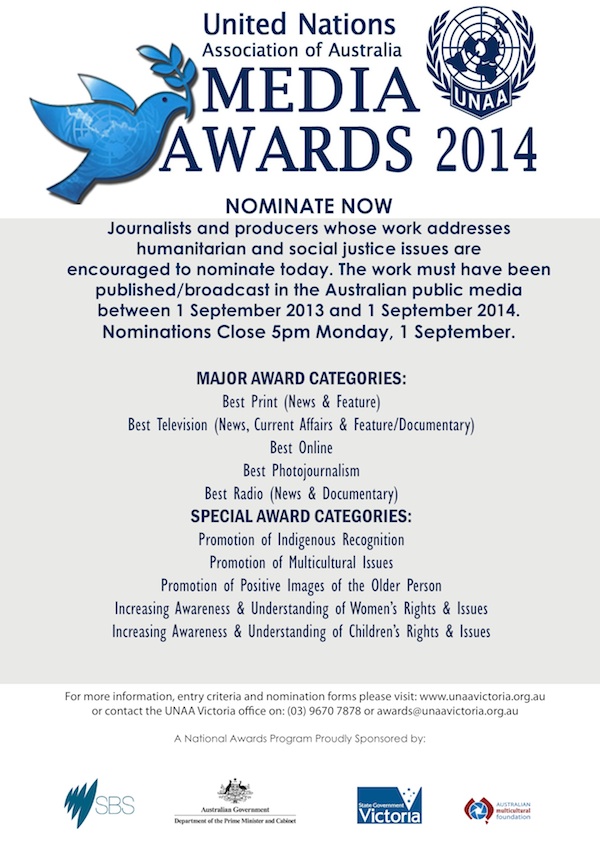 Related News
Tech monocultures hold danger

Education technology expert Leo Gaggl has warned IT consumers against the dangers of accepting technology monocultures over competitive diversity. In a blog posted on Saturday, Mr...
SA 'green' builder skips waste on site

Environmentally-conscious SA builder Energy Aspect Living has designed its construction processes to eliminate building site waste and avoid the need for on-site skips. At a time ...
New CEO for Top Tourist Parks

Australia's largest tourist park marketing & member service organisation Top Tourist Parks of Australia (TTPA) has a new national CEO from the allied caravan and camping indust...
Project managers showcase skills in Adelaide

Award-winning South Australian projects will be on display in a major project management showcase in Adelaide this week.The annual Australian Institute of Project Management (AIPM)...