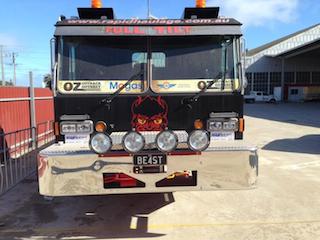 Struggling cars on a 3200 fundraising odyssey for The Royal Flying Doctor service now have a secret weapon called The Beast – a purpose-built 10-tonne rescue truck to haul them out of trouble.
Converted from a US Federal Emergency Rescue tilt tray, the Beast was overhauled in Adelaide to become the Oz Odyssey Rescue Truck, designed to rescue any bush basher in rapid time.
Now in its 22nd year, the 2014 OZ Outback Odyssey runs from this Friday, July 25 to August 1, covering 3200 km from Gawler through outback SA, NSW & Queensland to North Stradbroke Island.
This iconic 'not for profit' SA event for car enthusiasts and adventurers alike provide a special outback experience as entrants traverse rugged, spectacular and remote regions of outback Australia in pre-1985 vehicles and 4WD support vehicles.
OZ Outback Odyssey Chairman Keith Finch, who owns transport business Rapid Haulage, said he had bought the Beast at Long Beach, California. "It's more like a tank than a truck" he said.
"Whilst the end destination is spectacular, it's the journey itself that makes this event truly unique as entrants take in remote and iconic regions of Outback Australia. The Beast means there is now no risk of having to leave anyone behind."
During the OZ Outback Odyssey, The Beast will trail and rescue distressed entrants, driven by two Rapid Haulage mechanics who are taking holidays to have some serious fun!
This 4WD emergency service vehicle weighs 10 tonnes, has a huge V8 Caterpillar engine with higher ratio gears and diffs to enable highway speeds and is re-engineered with two extra seats for rescued crews - allowing four people to sit across the front seat area.
It has one-tonne winches at front and rear - enough to drag out any car or truck from a bog. Keith had 'The Beast' fitted with 'super single' balloon tyres instead of original rear twin tyre rims, making it more suitable for Aussie Outback dirt roads.
As you'd expect with a flamboyant 'Bash' type vehicle, it contains all sorts of whacky things such as flashing lights, sirens and water squirters as well as sensible items like metal cutting and welding equipment, service oils and fuel racks, an industrial size power inverter to run welders and retractable air hoses.
It has a large water tank under the front bumper bar, supplying a remote controlled water squirting cannon - more like a long distance super-squirter for annoying people… than fighting spot fires!
After departing Gawler this Friday, the OZ Outback Odyssey concludes eight days later with a presentation dinner on August 1 on picturesque Stradbroke Island, off the coast from Brisbane. Entrants will be treated to the finest in country hospitality, enjoy the good-natured rivalry and camaraderie of fellow participants. En route, they also support fundraising efforts in local towns.
Pre Event Promotion in Adelaide's CBD…
What: Presenting OZ Bash vehicles & 'The Beast'; RFDS staff with aircraft simulator; and event ambassador Russell Ebert
When: At 10am, Monday July 21
Where: East Parklands, Pit Straight, off Wakefield Road
Contacts: Sean Kirchner, Event Manager, OZ Outback Odyssey, 0414 988 235; or pro bono PR Mike O'Reilly, 0414 882 505

Background: Founded in 1992, the event was previously run solely by the Port Adelaide Football Club, with part proceeds supporting Novita Children's Services. The event is now run privately by OZBASH Ltd and is named the OZ Outback Odyssey with full proceeds donated to charity. Major beneficiary is now the Royal Flying Doctor Service, which will receive 75 per cent of the event's net proceeds.
Thanks to Major Sponsor Mogas Regional, and our Gold Sponsors, Rapid Haulage, Duncan Basheer Hannon, Channel Seven & O'Leary Walker Wines
Visit our website: http://ozoutbackodyssey.com.au/home.php
Related News
Green builder unveils Zero Carbon Home design

Aspect Living today unveils its innovative design for an affordable, environmentally-friendly home in SA's pioneering Zero Carbon Challenge. Woodside-based Energy Aspect Living ...