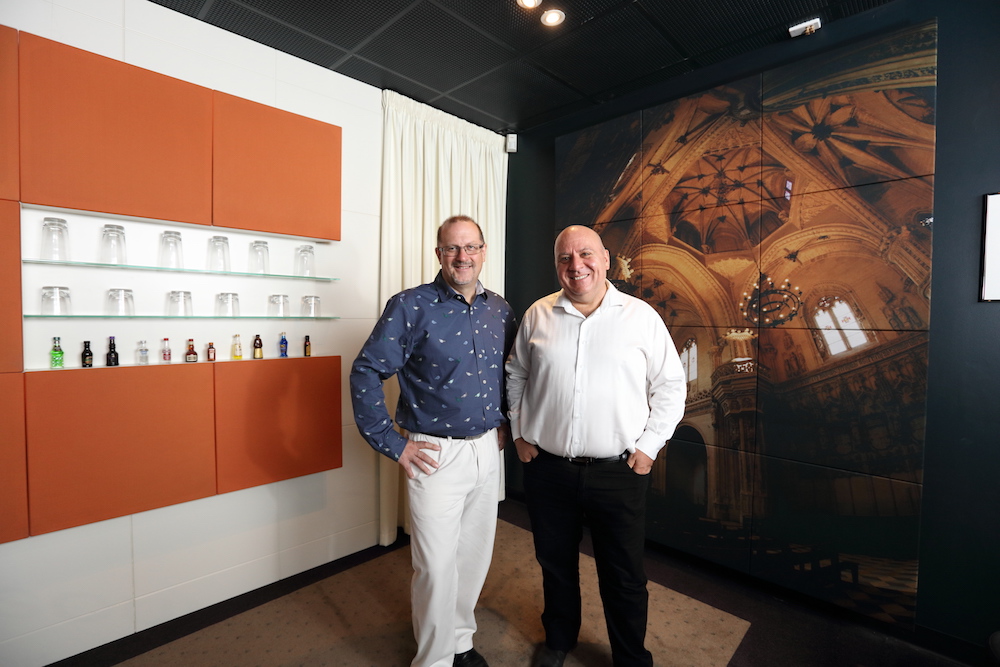 Iconic loudspeaker manufacturer VAF Research is aiming for strong growth this year with innovative new products, a beefed-up channel and the backing of technology entrepreneur Simon Hackett.
The Adelaide company sells directly from its Kent Town head office as well as distributing products nationally through selected resellers. This distribution network will be expanded this year, with the goal of substantially increasing the volume of indirect sales.
VAF attracted the interest of Simon Hackett – the Internode founder, NBN director and technology investor – after he bought a pair of VAF speakers in November 2012 to install at his office at Base64, the $3 million renovation of an historic 1865 Adelaide mansion and surrounding buildings that is now a state-of-the-art business centre.
During the past 18 months, Simon and VAF founder Philip Vafiadis have collaborated to define a shared vision for the company's future and where the market is heading. This has involved streamlining a number of back-end systems, a refresh of VAF's brand and website and the development of a new national distribution strategy.
Philip Vafiadis, whose other business interests include chairing business innovation specialist Innovyz and who also co-founded Zen Energy Systems, said 2016 was shaping up as a great year for VAF Research. "We have big plans for this year," he said.
"VAF has a legacy of sound innovation such as our flagship Signature speakers and pioneering SoundWall systems, so we will continue creating new category-defining products this year.
"We've also relaunched VAF as a national brand, with a presence in Melbourne already, plus plans to enlarge our network of specialist audiophile resellers throughout Australia during the rest of this year."
Founded in 1978, VAF Research has built a reputation for producing loudspeakers that deliver unparalleled audio quality. In a review, Rolling Stone magazine described VAF speakers as "the ultimate in high fidelity performance with the best bass in the world".
VAF Research starts this year with a high profile sponsorship of the WOMADelaide world music festival in Adelaide, which runs from March 11-14. WOMADelaide attendees can escape the heat and bustle of the four-day festival in the large comfortable VAF Listening Lounge, which will stream live music from WOMADelaide's Foundation Stage and Moreton Bay Stage on high-fidelity VAF loudspeakers.
As well as a range of high-fidelity headphones, the lounge will offer free high-speed WiFi access and free phone-charging facilities plus a Combi Coffee van to recharge your batteries. VAF umbrellas and VAF 'bumboxes' will give the brand high visibility throughout Botanic Park.
Simon Hackett, who has invested in an extensive portfolio of innovative Australian businesses, said he decided to invest in VAF Research after buying a pair of the company's speakers. "The clarity of sound is simply outstanding," he said.
"In a world dominated by the convenience of listening to music on smartphones or cheap wireless speakers, listening to your favourite music on VAF loudspeakers is like stepping into one of the great concert halls of Europe - every sound is crystal clear.
"WOMADelaide is a great venue for VAF speakers, which are fantastic at reproducing the sounds of live concerts. They are the ultimate speakers for listening to World Music.
"We've expanded the team at VAF to bring in new skills to enable this iconic Australian audio technology to take its rightful place on the national and international stage. Watch this space."
For media assistance, call John Harris on 08 8431 4000 or email john@impress.com.au.
About VAF Research
VAF Research is a privately-owned Australian company that builds great loudspeakers based on a design philosophy that ensures more natural and accurate sound reproduction. Tens of thousands of individual owners throughout Australia and the world use VAF loudspeakers to bring their stereo and home theatre systems to life. VAF loudspeakers have been chosen by The Conservatory of Music (Elder Hall), Australian Broadcasting Corporation (ABC), Microsoft, School of Audio Engineering, Telstra, Kojo Productions and Parliament House Canberra. In 1998, VAF loudspeakers were selected by the Adelaide Festival Centre for what was then the world's largest electro-acoustic system. With its head office in Adelaide, VAF offers specialised service from a team of great people who are passionate about giving you the best possible listening experience.
To learn more about great VAF loudspeakers, visit www.vaf.com.au.
Related News
Hackett Foundation sponsors WOMADelaide 2016

The charitable foundation run on behalf of the family of technology entrepreneur Simon Hackett has agreed to become the Presenting Sponsor of the WOMADelaide world music festival...
Simon Hackett invests $2.2 million in RedFlow

Australian technology entrepreneur Simon Hackett today reveals he has invested $2.2 million to become a major shareholder in ASX-listed battery storage developer RedFlow Ltd. Bris...
Henry Austin savours the sound of success

Max MasonResurgent Adelaide restaurant The Henry Austin is delighting diners with high-fidelity VAF SoundWall speakers that match the venue's fine food and wine with a diner-...