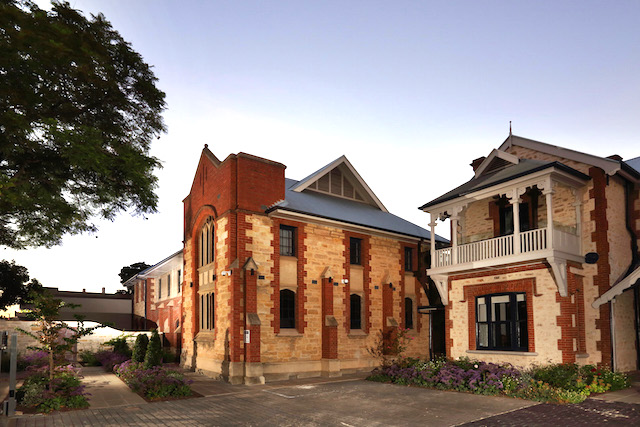 An historic Adelaide mansion has undergone a multi-million-dollar metamorphosis that has transformed the heritage-listed 19th century pile into a 21st century landmark.
The property - formerly housing the Parkin Theological College and Pepper Studios - is a distinctive visual and historic element in Kent Town, a fringe suburb east of Adelaide's CBD.
Constructed in 1865 of bluestone and sandstone rubble with brick quoins, the original two-storey building contains picturesque detailing with a facade of profiled brick, scalloped barges and a cantilevered balcony.
When Adelaide-based technology entrepreneur Simon Hackett paid $3.5 million for the property in 2012, he decided to restore it to its former glory while bringing it aesthetically, structurally and functionally into the 21st century.
"It is such a beautiful property that had been extended and maintained quite haphazardly over the years," said Simon. "We wanted these renovations to make this an Adelaide landmark building for the next 100 years."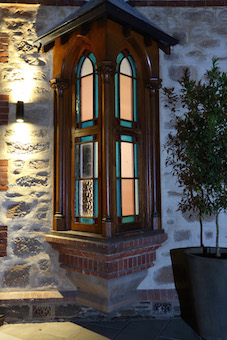 'The restoration was led by Williams-Burton Architects in collaboration with Anna Hackett. Sarah Constructions carried out the building work.
The mansion, once known as Wavertree, is one of four buildings on the 2777-square-metre property, now named Base64, a digital quip arising from its address at 64 North Terrace, Kent Town. The original house is linked with many notable South Australians, including Sir Frederick Holder, who was twice Premier of South Australia in the 19th century and first Speaker of the Federal House of Representatives.
Originally built as a private residence, the location has accommodated a theological college, a television production studio and a digital video production facility. A second two-storey building, built in 1930, contains a one-time chapel while an expansive double-storey building at the rear once housed television production studios. Connecting these buildings is a "bridge" building that contains upstairs offices and a ground-floor open-plan kitchen and entertainment area flowing into a central courtyard.
The project to reinvigorate the entire site, while maintaining architectural integrity of the oldest buildings, was not for the faint-hearted. Like Grand Designs on steroids, the renovations have cost as much as the purchase price, as work progressively uncovered unplanned challenges.
Today, the two-year project has remodelled and integrated all four buildings, transforming them from dowdy neglect to contemporary glory, filled with light, warmth and an invitation to community.
Roofs were replaced. Structurally challenged stone walls were reinforced with steel supports. Repairs to a botched 1980s makeover replaced concrete smeared between bluestone blocks with lime mortar repointing. Uneven wooden floors were ripped up, realigned and replaced. A defunct swimming pool was converted to a 50,000-litre tank for underground storage of rainwater. Windows were double-glazed and made to open, so that natural airflows are available throughout the building to complement and minimise use of the air conditioning systems. Two elevators were installed to provide wheelchair access to all floors. The forecourt area and the internal courtyard were elegantly landscaped.
Technologically, the Base64 business precinct is well and truly in the 21st century. As well as discreetly placed solar panels that can generate 20 kilowatts of power, with plans for on-site battery storage, the buildings have been completely rewired with new electrical cabling and Cat6E data cabling. The on-site network is linked to the Internet by high-speed fibre-optic cabling offering download and upload speeds of one gigabit per second. One building includes a state-of-the-art server room to allow for high-end computing resources on-site as required.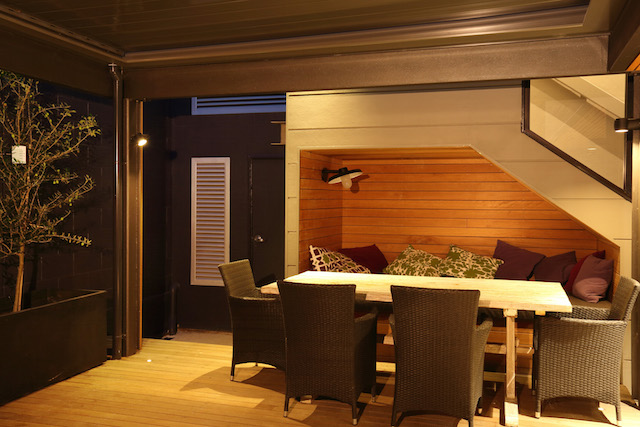 Base64 includes a variety of conversation, meeting, eating, and thinking spaces, in addition to offices and large open-air collaborative working areas. The site is designed to encourage a productive collaboration between its residents and visitors. It has facilities for training, events and seminars, in addition to a variety of quiet and comfortable spaces for individuals and small groups to hold conversations.
Now the major restoration is complete, Base64 has started its latest incarnation. The original building houses the Hackett family office, with a small team managing Simon's various business interests. The other interconnected buildings surround an open-air central courtyard and include residents from a range of innovative Australian businesses that benefit from the collegial environment offered by the redevelopment.
Base64's first residents include online wine merchant Vinomofo and "big data" analytics company D2D (Data to Decisions).
For media assistance, call John Harris on 08 8431 4000 or email john@impress.com.au.
For more about Base64, visit www.base64.com.au
Related News
Hackett ticks the boxes for Charles Todd Medal

Internode founder and NBNCo board director Simon Hackett this week collected the Charles Todd Medal for his outstanding contributions to the Australian telecommunications industry....