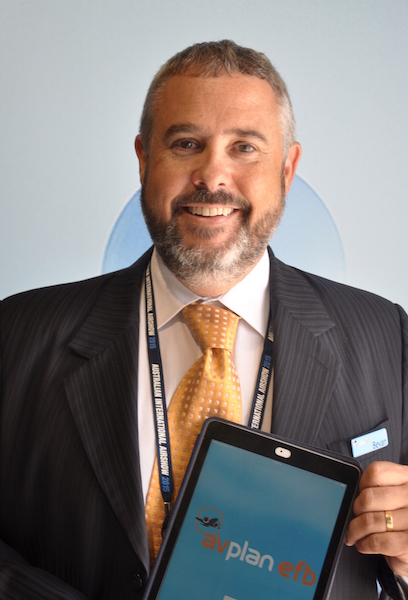 Australia's award-winning flight planning software developer AvSoft has substantially enhanced its AvPlan EFB (Electronic Flight Bag) iPad app with an arsenal of new features.
As well as integration to send flight plans from AvPlan EFB to Jeppesen FliteDeck and a more complete picture of changing weather patterns, AvPlan EFB version 5.0 delivers audible cockpit notifications, a refuelling price database and new calculators for the lowest safe flying altitude and pre-planned gliding ranges.
AvPlan EFB, used by thousands of professional and amateur pilots in Australia, New Zealand and the US, is developed in Melbourne by AvSoft, a privately owned company that last month won the Aerospace Australia Ltd Civil Industry National Innovation Award for 2015.
AvSoft CEO Bevan Anderson said AvPlan EFB's latest free software upgrade would benefit subscribing pilots in all three countries. "This is a huge release, which has features coming out of its ears," he said.
"We believe this version places AvPlan EFB ahead of any other flight planning, Electronic Flight Bag and navigation engine in the market today."
AvPlan EFB 5.0 becomes even more attractive for flights schools with Jeppesen FliteDeck Integration, which enables pilots at flight schools to enjoy AvPlan EFB's comprehensive yet intuitive planning, briefing and flight plan filing capabilities while still using the Jeppesen approach charts in the air.
AvPlan EFB is already used by four of the five largest flight training schools in New Zealand.
Another standout innovation in AvPlan EFB 5.0 is improved weather display capabilities, which provide pilots with a more complete picture of changing weather patterns.
AvPlan EFB 5.0 also has an integrated obstacle database to scan the map of a flight segment, identify the highest ground obstacles, and then determine the lowest safe flight altitude for that segment.
A great safety feature of AvPlan EFB 5.0 is the aircraft glide range view and planner, which enables pilots to plan a flight within gliding range of safety airfields along the entire route. As well as these outstanding safety capabilities, AvPlan EFB 5.0 offers enhanced convenience features including:
Voice activated alerts (with a choice of voices) to inform the pilot of cockpit status without visual distraction
A fuel price database, so pilots can pick the most cost effective places to refuel
A simplified start-up process for new AvPlan EFB users.
AvPlan EFB 5.0 is free to download from Apple's AppStore, which includes an automatic 30-day trial data access period. Ongoing use requires an annual subscription for updated chart and map data. Pilots can subscribe to their choice of VFR charts, government-issued IFR charts and government-issued IFR instrument departure and approach plates. Whereas a full set of Australian paper charts costs about $400-$500 a year, an AvPlan EFB subscription starts from just $89 a year.
For media assistance, call John Harris on 08 8431 4000 or email john@impress.com.au.
Related News
VAF turns up national sales volume in 2016

Iconic loudspeaker manufacturer VAF Research is aiming for strong growth this year with innovative new products, a beefed-up channel and the backing of technology entrepreneur Simo...
Simon Hackett invests $2.2 million in RedFlow

Australian technology entrepreneur Simon Hackett today reveals he has invested $2.2 million to become a major shareholder in ASX-listed battery storage developer RedFlow Ltd. Bris...
Hackett powers ahead with Redflow at Base64

Technology entrepreneur Simon Hackett today reveals plans to enhance Base64, his $7 million renovated office complex built around an historic Adelaide mansion, by installing Austra...