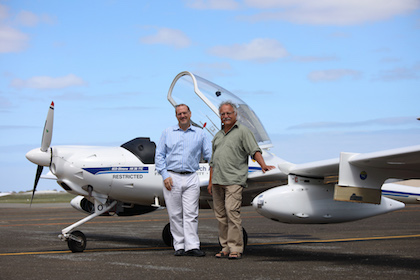 Simon Hackett (left) with Jorg HackerAn SA-based airborne research institute that tracks everything from dinosaur footprints to cattle flatulence has received a major research boost from a more than $1 million donation by the Hackett Foundation.
Airborne Research Australia (ARA) was born 30 years ago at Flinders University and has established itself as a unique, national and international research group for airborne research. This donation sees ARA move to an independent, not-for-profit company that will maintain strong links with university-based research and education. Members of the ARA Board of Directors have strong scientific backgrounds as active researchers and educators at Australian and overseas universities.
The support from the Hackett Foundation will assist ARA to invest in new scientific instrumentation and capabilities, as well as specialist staff to map the Earth in all of its aspects using a fleet of unique small aircraft to obtain new and important information about our living environment, including the atmosphere and coastal submerged features.
ARA's staff of seven, who fly its aircraft and support its instruments, includes scientists, engineers, operations personnel and technicians. Based at a large hangar at Parafield Airport, ARA operates special mission aircraft carrying sophisticated sensing equipment that is unique in Australia. The airborne measurements and datasets are critical to build our knowledge about many of society's contemporary critical issues – from land, air and water management, to food production, to mining and energy, coal seam gas and fracking, and even climate change – to name just a few.
ARA operates two of the world's seven custom-built HK36TTC ECO-Dimona aircraft, each with pods and pylons under the wings that hold specialist measuring instruments such as LiDAR *, hyperspectral **, thermal infrared or methane and other atmospheric sensors. These cutting-edge sensing tools allow ARA to make measurements of environmental processes at unprecedented detail. ARA uses these sensors to collect and process information to detect environmental change, locate objects and even identify different surfaces and materials.
ARA Director and Chief Scientist Professor Jorg Hacker, who holds a Professorial Chair in Airborne Research at Flinders University, said the Hackett Foundation donation would provide outstanding research support and allow ARA to pursue new and exciting research opportunities. "The future possibilities and opportunities for airborne research are limitless and exciting," he said.
"We are grateful for and honoured by the foresight and wisdom shown by the Hackett Foundation in supporting our airborne capabilities and our research."
During the past three decades, ARA has undertaken world-leading and often unusual research projects including:
Recording 3D images of dinosaur footprints on exposed rock platforms along the coast of the Dampier Peninsula near Broome with the highest resolution airborne LiDAR instrument in Australia, funded by the ARC
Flying through plumes from coal-fired power stations in Queensland to measure dangerous ultra-fine particles that can settle in the lungs in high concentrations, funded by the German Research Council
Using a 'methane sniffer' just 25 metres above a 12,000-cattle feedlot in Victoria to record cattle-generated methane and ammonia gas for Australia's greenhouse gas emission budget, funded by the ARC and Meat and Livestock Australia
Testing a specialist dust-measuring Canadian-built laser bound for Mars in flight over Lake Eyre, funded by the Canadian Space Agency.
Professor Hacker said ARA would concentrate on new and innovative technology and real-world applications. "We will focus on innovative research not usually undertaken elsewhere in Australia and squarely based on scientific collaboration, with the aim of sharing the ensuing datasets," he said.
"ARA's focus is to enhance its ground-breaking capabilities further and make them available to a larger community to help gain a better understanding of the many environmental problems that humankind faces. We constantly look for challenging projects that deliver exciting new findings, are important for society, and add new value.
"Instead of competing with the rapidly growing and exciting field of using unmanned aerial platforms ("drones") for research, we are increasingly and actively collaborating with research groups operating such tools. The combination of small manned aircraft and unmanned aerial systems is a very powerful approach to many research questions and has already delivered combined datasets that were simply not achievable even a few years ago."
Passionate pilot Simon Hackett said the Hackett Foundation is proud to support ARA to reach the next stage of its development. "We feel it's a valuable contribution to assist Jorg and his team to perform this vital measurement work for the environment. It is such a unique facility and such a tremendous opportunity for our state and nation," he said.
"When you look at all the environmental issues out there and those yet to come, it is clear we will need the best science underpinned by the best data to understand and effectively manage our environment. ARA continues to do great science that I believe has profound implications for all of us. The wonderful result of ARA's activities is that it also gets people excited about science, technology and flying."
For media assistance, call John Harris on 08 8431 4000 or email john@impress.com.au
About Airborne Research Australia (ARA)
ARA's capabilities and approach to airborne environmental research and monitoring are unmatched worldwide in terms of the available sensing toolkit combined with the most cost-effective, flexible and clean airborne platforms available today operated by a small team of multi-talented specialists. To build up such a capability in South Australia was only possible through philanthropic and other support, starting with the late Joyce and Don Schultz of Glen Osmond to the Sir Ross and Sir Keith Smith Trust, as well as the Commonwealth and especially the ARC LIEF grant programme.
ARA's airborne platforms are unique. To study the environment, one should use a platform that does not affect the environment by flying over it. Being essentially (manned) motorgliders with modern very quiet and clean engines using unleaded petrol, these aircraft leave a minimal footprint during research flights making it possible to map even the most sensitive environment without disturbing it and/or its inhabitants such as protected areas of the Great Barrier Reef or World Heritage Areas in southern Tasmania or the Kimberley in Western Australia.
In environmental research, it is absolutely essential to establish baselines for parameters such as health of vegetation, land cover or air quality, so that one can then judge changes over time. Airborne observations are a very efficient tool to do this. Just one example is the currently occurring mangrove dieback along the NE-Australian coastline. ARA, together with a team of Australian and international researchers, is in the process to document the current status and then monitor the phenomenon over time to try to understand the processes involved.
* LiDAR works like radar, but using beams of light reflected from features on the ground such as vegetation, buildings, etc. at very high resolution.
** Hyperspectral means scanners which can "see" not just three wavelengths like ordinary cameras (red, green and blue), but thousands of them extending far beyond the visible spectrum. This enables analyses of vegetation health, nitrogen content, water use efficiency and many other parameters.
Related News
AvPlan takes off in the USA

The internationally successful AvPlan software, which allows pilots of high performance planes to use an iPad to prepare and file their aircraft flight plans in just minutes, is no...
Hackett powers ahead with Redflow at Base64

Technology entrepreneur Simon Hackett today reveals plans to enhance Base64, his $7 million renovated office complex built around an historic Adelaide mansion, by installing Austra...
Hackett Foundation sponsors WOMADelaide 2016

The charitable foundation run on behalf of the family of technology entrepreneur Simon Hackett has agreed to become the Presenting Sponsor of the WOMADelaide world music festival...
VAF turns up national sales volume in 2016

Iconic loudspeaker manufacturer VAF Research is aiming for strong growth this year with innovative new products, a beefed-up channel and the backing of technology entrepreneur Simo...