Australian energy storage specialist Redflow will tomorrow reveal the custom-designed enclosure for its recently launched ZCell home battery at the Australian Energy Storage Conference & Exhibition in Sydney.
The outdoor-rated enclosure, which measures around 1000mm long, 500 mm wide and 1150 mm high, holds Redflow's unique 10 kilowatt hour (kWh) ZBM2 flow battery,
Designed to be easy for installers to deploy, one or more ZCell units are typically installed on the ground beside an outdoor wall and connected to appropriate battery inverter/charger equipment.
Redflow Executive Chairman Simon Hackett, who will speak at an opening session of the Australian Energy Storage Conference, said the ZCell enclosure was designed and is being manufactured in Australia. "This is the first time we have shown our ZCell enclosure publicly," he said.
"We're very pleased with the design, which is both attractive and practical, that allows straightforward outdoor installation, and features a built-in secondary containment system to protect against the unlikely event of an electrolyte fluid leak.
"We expect to receive the first production batch of ZCell enclosures for quality assurance testing before the end of June, with ZCell bundles now expected to be delivered to installers for customer deployment from August."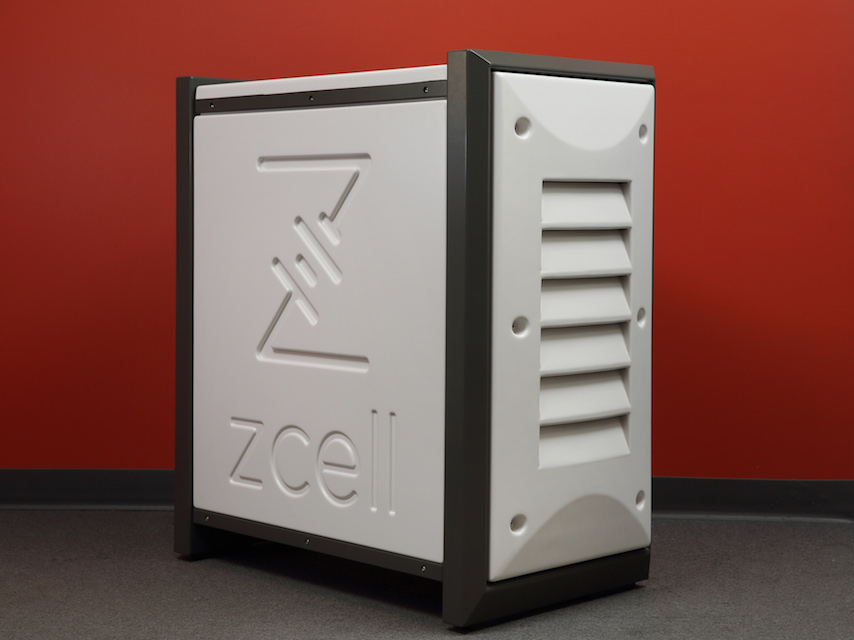 ZCell is a breakthrough residential energy storage system that includes a battery made from easily recyclable or reusable components. ZCell's 10 kWh of stored energy allows people to 'timeshift' solar power from day to night, store off-peak power for peak demand periods and support off-grid systems. ZCell's benefits include:
Supports 100 per cent depth-of-discharge energy delivery with no potential for battery damage when fully discharged. Can be stored indefinitely without requiring maintenance charging
Greater safety inherent in ZCell's flow battery design. Mechanical damage does not risk explosion and the battery can not suffer 'thermal runaway'. Indeed, ZCell's electrolyte is intrinsically fire retardant
Robust performance in even hot and demanding remote locations without the need for external cooling until an ambient outside temperature of at least 45 degrees Celsius, and
Recyclable or reusable: Most components, including plastic, aluminium, steel and ZCell's electrolyte, are recyclable or reusable.
Redflow has commenced installing exemplar ZCell systems at a range of Australian sites and is now developing documentation and training processes in order to accredit qualified installation partners.
Simon Hackett said Redflow had received a strong response to the ZCell launch from prospective customers and potential installers. "We are installing selected exemplar systems during June and July, with larger volumes of ZCell batteries scheduled to start arriving from August," he said.
ZCell's international availability will be announced in coming months.
The Australian Energy Storage Conference & Exhibition is running from June 1-2 at Australian Technology Park in Sydney. Simon Hackett will participate in the conference's opening panel, at 10am, Wednesday, June 1, addressing the topic 'The disruption driving the New Energy Grid'. Redflow will exhibit its ZCell enclosure on Stand 203 of the exhibition.
For media assistance, please call John Harris on +61 8 8431 4000 or email john@impress.com.au.
About Redflow www.redflow.com
Redflow Limited is an energy storage specialist that has developed the world's smallest flow batteries. Redflow's unique flow batteries are designed for stationary energy storage applications ranging from its ZCell home battery to its ZBM battery range for commercial, telecommunications and grid-scale deployment. Redflow is a publicly-listed company (ASX: RFX) that operates R&D facilities in Australia, as well as offices in the US and Europe. Produced in North America by Flex, one of the world's largest supply chain solution companies, Redflow's high energy density batteries are sold, installed and maintained by a global network of system integrators.
Related News
After turnaround year, Redflow aims for growth

Redflow CEO Tim HarrisAustralian energy storage company Redflow Limited (ASX: RFX) reports it has completed a successful turnaround during 2017-18 and is focussed on growth in the ...
Redflow extends battery warranty to 10 years

Australian energy storage specialist Redflow Limited today announces that it has extended the warranty for its 10 kilowatt hour (kWh) ZBM2 and ZCell zinc-bromine flow batteries to ...