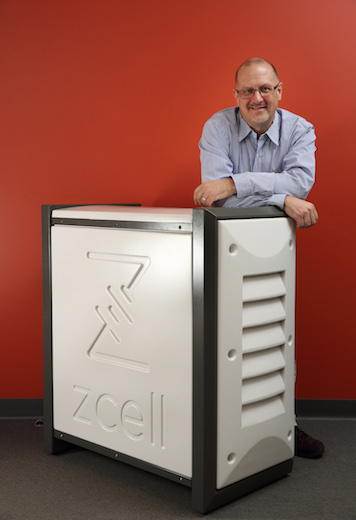 Australian energy storage specialist Redflow Limited today announces that it has extended the warranty for its 10 kilowatt hour (kWh) ZBM2 and ZCell zinc-bromine flow batteries to 10 years.
Previously, Redflow warranted the electrode stack in its batteries for 10 years or 36,500 kilowatt hour (kWh) output, whichever came first, and for three years for auxiliary components such as electrolyte tanks and pumps.
Redflow's entire battery is now covered by the 10-year/36,500kWh warranty, which aligns it with emerging industry standard warranties for residential and commercial energy storage systems.
Redflow CEO Simon Hackett said the 10-year warranty showed the company's commitment to quality. "This assures customers that Redflow batteries are a long-term proposition," he said.
"What makes Redflow's 10-year warranty such outstanding value is that our zinc-bromine flow batteries sustain their 10 kWh of storage capacity for that entire 10 years, rather than losing capacity over time, as occurs with lithium-based and lead-acid batteries."
Redflow's 10-year warranty applies to its ZBM2 10kWh modular energy storage product, which is sold worldwide, as well as to its residential product bundle, available in Australia under the ZCell name.
SolarQuotes founder Finn Peacock said Redflow's extension of the 10-year/36,500 kWh warranty to cover the mechanical components of its batteries was a very welcome move. "It means the cost per warranted kWh drops to 35 cents per kWh if cycled once per day," he said.
"This makes it a compelling choice for people looking for an Aussie-developed battery that does not degrade and can be easily refurbished at the end of its life to perform like new - unlike lithium ion for which the recycling process is an unknown."
Full details of the new Redflow warranty are available on the Redflow.com web site for the ZBM2 and on the ZCell.com web site for the ZCell residential energy bundle.
For media assistance, call John Harris on +61 8 8431 4000 or email john@impress.com.au.
About Redflow www.redflow.com
Redflow Limited is an energy storage specialist that has developed the world's smallest flow batteries. Redflow's unique flow batteries are designed for stationary energy storage applications ranging from its ZCell home solution to its ZBM2 batteries for industrial, telecommunications and grid-scale deployment. Redflow is a publicly-listed company (ASX: RFX) that operates R&D facilities in Australia, as well as offices in the US and Europe. Produced in North America by Flex, one of the world's largest supply chain solution companies, Redflow's batteries are sold, installed and maintained by a global network of system integrators.
Related News
Redflow continues Board Renewal

John LindsayAustralian energy storage company Redflow Limited (ASX: RFX) is pleased to announce that it has today appointed technology expert and businessman John Lindsay to the bo...