Australian energy storage specialist Redflow has advised the country's beleaguered mining companies to deploy renewable energy with on-site power storage to cut energy costs at remote mine sites.
As iron ore and coal prices have halved while metals such as copper and aluminium fell to near six-year lows, miners are increasingly looking for ways to maintain their profitability or even viability.
Redflow is an Australian Stock Exchange-listed company (ASX:RFX) that has developed and commercialised innovative Zinc-Bromide Modules (ZBMs) flow batteries that can be used everywhere from individual homes to grid-scale storage applications.
Redflow CEO Stuart Smith said that embracing renewable energy coupled with energy storage could assist miners to drive down the cost of their energy expenditure. "Despite mining's current decline, Australia will remain a major supplier of coal, iron ore and metals well into the future," he said.
"With 40 per cent of global electricity generated by coal, the local coal industry is still a vital part of the Australian economy, so it's imperative that miners investigate how improved energy management can reduce their operating costs.
"Energy storage systems alongside solar arrays can deliver significant cost savings when compared with the infrastructure costs of setting up gas reticulation or using diesel generators, especially the cost of fuel when mine sites are not grid-connected."
In a white paper on the topic, Redflow points to pioneering projects such as the DeGrussa Sandfire mine, 900km north-east of Perth, which is investing $40 million to construct a 10.6 megawatt (MW) solar power station by 2016. It also cites Rio Tinto, which has deployed 6.7MW of solar photovoltaic generation for an off-grid mine, township and port to support its bauxite mining operations at Weipa, in Far North Queensland. Rio Tinto is currently adding an extra 5MW of solar panels, with integrated energy storage, to reduce diesel demand.
Stuart Smith said large-scale energy storage could provide a cost-effective off-grid solution when coupled with renewable energy to reduce or remove the use of diesel generators to power mine sites. "This would see a large-scale battery at a remote mine site utilised in conjunction with solar," he said.
"Such energy storage would overcome the intermittent supplyof renewable sources by time-shifting energy till when its needed. You can also use energy storage to safeguard against grid blackouts, delivering significant cost savings by reduced disruption during power outages."
Brisbane-based Redflow www.redflow.com has built energy storage systems for harsh conditions such as mine sites as its batteries do not require active cooling and can operate in temperatures as hot as 50 degrees. Redflow's ZBM batteries, which are manufactured by Flextronics, one of the world's largest end-to-end supply chain solution providers, come with a 10-year guarantee.
Redflow's plug-and-play batteries are easy to integrate with remote renewables, grid connection or hybrid solutions. Data from commercial applications shows that energy storage significantly reduces operating costs, an experience that is applicable to mine sites.
The zinc bromide chemistry of Redflow batteries makes them ideal 'workhorses' for mine sites. They are better equipped to meet the demands of remote installation than traditional battery designs such as lead acid or lithium ion. Able to charge and discharge 100 per cent of their energy capacity each day, Redflow flow batteries are not damaged by such deep daily cycling or unexpected power outages.
Redflow batteries can be stored indefinitely when fully discharged, which is not possible with older battery technologies. In addition, flow batteries require no trickle charging either in storage or prior to deployment, making the investment dollars stack up when it comes to energy density, shelf life and battery life.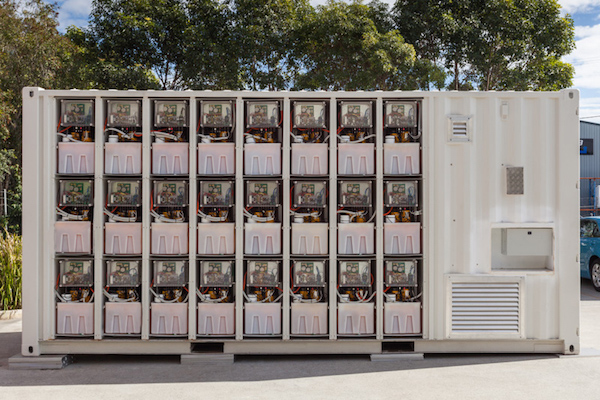 Redflow's LSB (Large Scale Battery) is a 20-foot shipping container that holds as many as 60 flow batteries. The LSB can store as much as 660 kilowatt hours (kWh) of energy and can operate in parallel by forming multiple container configurations for larger energy requirements. This makes the product both flexible and modular for a wide range of energy applications, including mine sites.
For media assistance, call John Harris on 08 8431 4000 or email john@impress.com.au.
About Redflow
Redflow is a market leader, as one of the first companies to install fully operational and functional Zinc-Bromide Module (ZBM) batteries into a range of stationary energy applications. Redflow ensures continuous product innovation in our flagship R&D centre in Brisbane, which is part of our global presence, including Redflow offices in the US and Europe. Redflow batteries are manufactured by the world's second largest manufacturing company, Flextronics. Our flow battery is sold, installed and maintained through our global network of system integrators. For more about Redflow, visit www.redflow.com.
Related News
Redflow unveils battery lab in Adelaide

Australian battery manufacturer Redflow Ltd has established a battery laboratory in Adelaide to assist with its software development and to certify its zinc bromide flow batteries ...
Mossel Bay goes carbon neutral with Redflow

Redflow Global Sales Director Andrew KempsterMossel Bay Municipality in the Southern Cape province of South Africa has eliminated the carbon footprint of its Technical Services Dep...