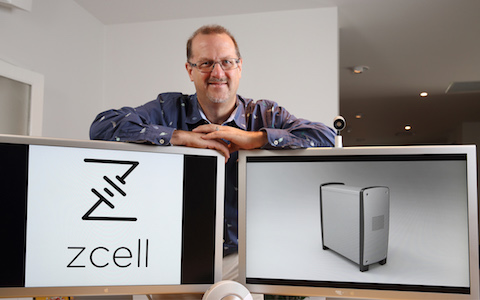 Battery innovator Redflow will demonstrate the new Internet-enabled Battery Management System (BMS) for its batteries at the Australian Energy Storage Exhibition in Sydney on June 1-2.
Designed to simplify battery installation, control, maintenance and monitoring, the Redflow BMS tracks real-time battery performance and energy storage levels for system installers and battery owners. It allows local and remote monitoring, data logging and management over any available Internet connection.
Redflow will bundle the BMS with its recently announced ZCell residential product and will also supply it for use in commercial, telecoms and grid-scale deployments.
Redflow Executive Chairman Simon Hackett said the BMS would make the sophisticated Redflow batteries easy to install, control, manage and monitor. "This BMS is a key part of our vision of providing efficient and effective battery energy storage systems for both homes and businesses," he said.
"Our BMS is designed to act as a 'Rosetta stone' that uses various industry standard protocols to integrate our unique battery technology with energy management electronics from a wide variety of vendors.
"The BMS will make Redflow battery deployments easy for system integrators and easy for customers, regardless of which associated power-handling electronics they choose for their energy storage system."
The BMS is accessed via a standard web browser on either a PC or smartphone, with no other software required.
The BMS is capable of providing control signals to various external systems and interfaces. For example, the BMS can coordinate the operation of a backup generator using dry-contact relay outputs, MODBUS-TCP commands or via JSON data queries over a TCP/IP connection. These control signals can be based on a wide variety of battery status criteria such as state-of-charge, battery voltage and time-of-day.
The BMS also provides integrated graphs showing a variety of key performance characteristics and allows for the downloading of detailed battery system performance data securely over any available Internet connection.
Leveraging that connection to offer additional benefits, the BMS can be remotely upgraded over the Internet and also supports remotely upgrading the control firmware embedded inside each battery. Battery performance and status information can also be accessed remotely.
Redflow will demonstrate its BMS on stand 203 at the Australian Energy Storage Conference & Exhibition in Sydney from June 1-2. For more details, call John Harris on +61 8 8431 4000 or email john@impress.com.au.
About Redflow www.redflow.com
Redflow Limited is an energy storage specialist that has developed the world's smallest flow batteries. Redflow's unique flow batteries are designed for stationary energy storage applications ranging from its ZCell home battery to its ZBM battery range for commercial, telecommunications and grid-scale deployment. Redflow is a publicly-listed company (ASX: RFX) that operates R&D facilities in Australia, as well as offices in the US and Europe. Produced in North America by Flex, one of the world's largest supply chain solution companies, Redflow's high energy density batteries are sold, installed and maintained by a global network of system integrators.
Related News
Redflow to miners: Store energy to cut costs

Australian energy storage specialist Redflow has advised the country's beleaguered mining companies to deploy renewable energy with on-site power storage to cut energy costs ...