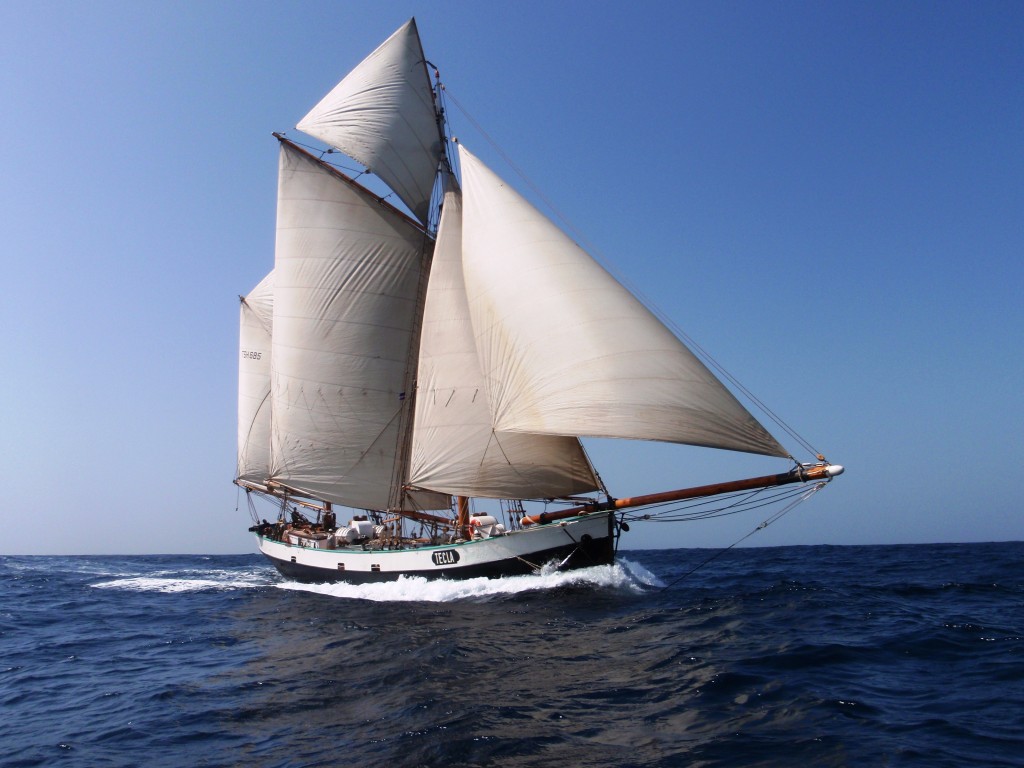 Five tall ships will fill Port Adelaide's Inner Harbor from 28 August to 1 September in what will be the biggest gathering of traditional sailing ships seen in the Port since 1988.
Three Dutch tall ships are visiting en-route to an International Fleet Review in Sydney. They are the bark Europa, the schooner Oostershelde and the fishing lugger Tecla. The bark Europa was built in 1911 and today travels the oceans of the world. Crewed by professionals and guests of all nationalities and ages, the 56 metre long ship was built in Hamburg and rebuilt and refurbished in Amsterdam. The three-masted topsail schooner Oosterschelde, built in 1917, is the largest restored
Dutch sailing ship and is a testament to the supreme skills of the Dutch shipbuilders. Tecla, built in 1915 as a herring lugger, is a fast ship, rigged with two masts and carrying several suits of sails for heavy and light weather.
They will be joined by SA's own Falie and One & All which will return to their berths on McLaren Wharf for the event. Failie was actually built in the Netherlands in 1919 as a Dutch lugger. It is the same class of vessel as the Tecla and was one of the last working ketches in SA.
The SA Maritime Museum is the host organiser for the tall ships' visit and is proud to have brought this gathering of sail to South Australia. Museum's Director, Kevin Jones said 'It will be thrilling to see a forest of masts return to the Inner Harbor, the traditional home of shipping in South Australia. I am proud of our part in bringing these majestic ships to Adelaide. Firstly, because this is such a great way to celebrate our maritime heritage. And secondly, because one of the original purposes for building SA's Maritime Museum in Port Adelaide was that it would help to lead the Port as a visitor centre. Twenty five years later our museum has welcomed over two million visitors and we continue to bring people to the heritage precinct.'
The Museum is partnering with Renewal SA, the One and All and Falie and other local organisations to host the Tall Ships Festival on Saturday 31 August 2013 from 11am to 5.30pm on McLaren Wharf , Port Adelaide. The free wharf-side festival will feature family activities including kids' workshops, music performances, market stalls as well as food and beverage vendors. Festival-goers will be able to admire the stunning spectacle of tall ships tethered to McLaren Wharf and take advantage of the rare chance to climb aboard the Dutch sailing ships between 11am and 5.30pm.
As part of the Festival, the South Australian Maritime Museum will hold its own Festival of Maritime Trades. The Festival resurrects trades from the era of sail with a collection of craftsmen on-hand to demonstrate their handiwork. These include a sail maker, shipwright, cooper, rope maker, model maker and blacksmith. Biographies of each tradesman are attached.
And in another fitting tribute to the tall ships, the Museum's latest exhibition Windjammers: the Last Grain Races tells the story of the men and women lucky enough to take part in the last days of sail.
Desperate to experience the romance of sail, prospective sailors flew from around the world just to be considered on the last grain race between ships Pamir and Passat in 1949. There was public frenzy surrounding the voyage: Pamir received 100 fan letters a day and newspapers and magazines closely tracked each voyage. The centrepiece of the exhibition is a striking collection of staged publicity photographs of sailors aboard Pamir prior to its departure from Port Victoria. Windjammers:
The Last Grain Races evokes the last days of commercial sail in Australia and the thrill and terror of those who faced the mountainous seas of Cape Horn.
The Tall Ships Festival is funded by Renewal SA.
Festival of Maritime Trades - bios
Andrew McFarlane—shipwright
Owner of A McFarlane and Sons, Andrew is a fifth generation shipwright. His family ran a boatyard in Port Adelaide for most of the 20th century. They built Sayonara in 1897, a fine gaff cutter to a design by William Fife. It is still a fine Edwardian yacht. The Australian sailing championship was named the Sayonara Cup in honour of that yacht. Andrew will demonstrate traditional caulking using oakum.
Andrew is available for interviews on 0413 525 242 and lives in the Port Adelaide area.
Bill Porter—shipwright
Bill Porter built South Australia's brigantine One & All. He also built the SA Maritime Museum's housebound ketch Active II. Bill and his father ran a boat yard at Jenkins Street for fifty years. Bill will shape a tiller for his own yacht.
Don Lucas—sail maker
Don Lucas comes from a long line of sail makers. William Russell was a prominent Port Adelaide figure who established a sail making, chandlery and provisioning business in 1870. When other sail makers adopted modern materials, Don held true to his belief in traditional techniques and materials. He has earned an international reputation for his craft. Mystic Seaport, America's national maritime museum, flew Don to Connecticut for several summers to help rig their heritage fleet. He is available for interviews on 8289 8535 and lives at Golden Grove.
The Artist Blacksmiths Association South Australia was formed in 2008 by a group of Artist Blacksmith graduates from the last Artist Blacksmiths course held at TAFE Panorama.
On graduating, they discovered that there was no association or guild supporting Artist Blacksmiths in South Australia. With associations in place in NSW, WA and Victoria, they decided to form their own association here in South Australia to provide support, further training, communication and networking amongst members and interstate colleagues.
http://www.artistblacksmithsa.org.au/About_Us.html
Steve Sinclair—cooper
Steve Sinclair, the Village Cooper, is a master craftsman with over 37 years of experience. His passion has taken him to the USA, Britain, Europe and South Africa studying the history and intricacy of the craft.
Karl Jensen—rope maker
Karl is a master rope work who extends the skills of a seafarer to an art form. Karl will make craft pieces from hemp rope.
Bill Weste and Jack Van Reyen—model makers
Bill and Jack have decades of experience crafting scale models. As well as being loved by enthusiasts, model making is part of the traditional process of ships and boats. Even today boat builders use models to provide three dimensional views of the vessels under construction. They will display some of their completed models and their works in progress . Bill is available for interview on 8377 2512 and lives in Seacliff Park.
Related News
Adelaide welcomes first Apple Store

Despite a chilly Friday night, diehard Apple fanbois camped overnight in Rundle Mall for Saturday's opening of Adelaide's first Apple Store. By 7am, about 100 people were queuing ...
John's vision for QCamPro becomes a reality

Australian security expert John Convill today is watching a bright idea he had in 2010 - of a smartphone app that could monitor IP video surveillance cameras - become an internatio...