Q: What if… at this weekend's AFL & NRL Grand Finals the fields were covered with one year's worth of cigarette butt litter?
A: The Swans & Hawks would be battling through butts up to their knees!
A: The Storm & Bulldogs would be battling through butts up to their armpits!
An estimated Seven Billion Butts are littered around Australia annually.
Cigarette butts are Australia's most littered item, consistently recorded by 'Keep Australia Beautiful' research* as being around 50% of the total number of items littered nationally every year.
To put that number into perspective Dr Barry Cox, Senior Lecturer in Applied Mathematics at the School of Mathematical Sciences, University of Adelaide came up with these butt ugly facts.
If 7 billion cigarette butts were packed 'on end' and squeezed up with no gaps they could cover the entire playing surface of the MCG at least 20 times over - to a depth of 0.6 metres; and at the ANZ Stadium they would cover the surface 52 times to a depth of 1.56 metres.
If 7 billion cigarette butts were laid sideways 'end to end' then they would go around the MCG boundary line 442,000 times, and 625,000 times around ANZ Stadium boundary line.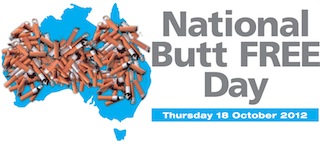 Calculations based on stadium figures provided by the football codes. The circumference and area of an ellipse at the MCG and a rectangle at the ANZ Stadium; and the area of a circular (in cross section) butt, based on dimensions of a standard cigarette used by testing organisations. Average length of a filter is 3 cm and a diameter of 0.8 cm, measured without the tobacco usually compressed on its end. These figures are conservative! Dr Cox's detailed calculations are available as a pdf.
Help us spread the message…
On Thursday, October 18th Australia has its first National Butt Free Day – when all of us can highlight the environmental threat posed by Australia's annual litter of Seven Billion Butts!
The size of butts compared to larger litter items belies the impact of this widespread problem. Butt littering impacts include waterways pollution through storm water drains, degradation of wildlife health and habitat, substantial yet largely avoidable daily costs in cleaning them up, and various other social, environment & economic impacts.
"It's hard to believe that something so small can have such a big impact. We are all well aware of health issues surrounding smoking, but less well informed about the environmental, social and economic impacts of butt littering," said campaign spokesman John Phillips OAM.
We need individuals, businesses and organisations to register as a participant of National Butt Free Day 2012, so they can access a range of educational & promotional materials to generate greater community awareness of the problem. To Register: info@buttfree.org.au or telephone 08 8234 7255.
Can you help us… to educate smokers that their Butt is actually a Big Thing, when we get that huge number being dropped as litter around Australia every year.
*The Keep Australia Beautiful National Litter Index is Australia's only national, annual, quantitative measure of what litter occurs where and in what volume. Over 950 sites are visited twice per year to create an annual report on litter in each State & Territory that can be compared against the national average.
Who is Dr Barry J Cox: http://www.maths.adelaide.edu.au/barry.cox/aboutme.htm
For Media Assistance, or to link a business to the campaign, contact Mike O'Reilly 0414 882 505; or e-mail: mike@buttfree.org.au /
John Phillips 0413 877 875 Issued on 27 September 2012
Related News
Project managers showcase skills in Adelaide

Award-winning South Australian projects will be on display in a major project management showcase in Adelaide this week.The annual Australian Institute of Project Management (AIPM)...
Surface nuclear waste spurs community concern

Port Augusta expo to explore community concerns about proposed SA nuclear waste dump from September 2-4, 2016 Conservation SA CEO Craig WilkinsCommunity concern is mounting about ...
Adelaide sees red in late-night litter war

Late night littering in Adelaide's entertainment precincts is being tackled from the 'footpath up' in a campaign launched this week on the city's sidewalks. Supported by KESAB, Ad...