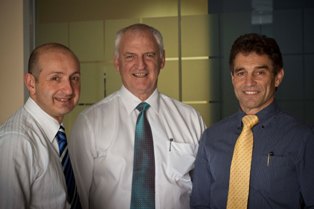 Two prominent Victorian wireless networking specialists, DyCom Wireless and JAS Broadband, have merged their operations to deliver greater choice for customers and a stronger market presence.
With many customers in the Victorian government and corporate sectors, DyCom Wireless has been the wireless networking division of 21-year-old systems integrator DyCom Business Systems Pty Ltd while JAS Broadband has provided microwave radio/wireless solutions since 2002.
JAS Broadband (Aust) Pty Ltd is trading as DyCom Wireless Solutions. As well as combining staff, the merged business is operating from DyCom's Preston premises, sharing administration, payroll and other corporate services with DyCom Business Systems.
DyCom has technology partnerships with global wireless providers including Motorola, Lightpointe, RAD, DragonWave and Ruckus Wireless. JAS Broadband adds its long-established relationships with suppliers including Ceragon Networks, Microwave Networks Inc and Israel-based MRV.
The combined operation has a strong customer presence in Victorian market segments including health care, education, local government, utilities and corporate organisations.
Dycom Wireless Solutions Manager Daniel Sacchero said this combination created a very competitive business in the communications sector. "The merger takes advantage of the two companies' deep experience with wireless solutions and their specific areas of expertise," he said.
"It creates a stronger company with broader skills and capabilities in wireless IP communications systems. Because we were focussed in different areas, we are increasing the capacity of the new business to meet the needs of its combined customer base as well as creating the critical mass to bid for and win new, larger wireless projects.
"The timing of this merger is ideal. I think 2010 will see an explosion in demand for wireless services due to increased business demand for high capacity communications that telcos are unable to provide cost-effectively. In addition there's a significant pent-up demand for wireless projects that were deferred in 2009 due to uncertainty caused by the Global Financial Crisis.
"Dycom Wireless Solutions also has deep expertise in IP networking, which is a promising area for growth. As a result, our prospects are very bright."
DyCom Wireless Solutions commences operations today with a staff comprised of all employees from the original JAS Broadband business as well as employees who have transferred from the DyCom Wireless division. No jobs were lost in the merger.
DyCom Business Systems Managing Director Mark Stecher said the long-term goal of the merger was growth. "The strategic plan for our Wireless division was to grow the business for the long term, increasing our share of the wireless market in Victoria," he said. "The merger with JAS delivers a significant benefit as they share our strong customer service focus, a key aspect of our business."
JAS Broadband (Aust) Pty Ltd director Jim Adams, who continues to hold the role of Technical Services Manager in the expanded operation, said the merger provided a positive path forward for the business and its customers. "Last year we realised that we needed a clear succession plan for our customers, so we envisaged working with a company that had common values with JAS," he said.
"DyCom Wireless not only shared our values, but the two businesses complemented each other in technical expertise and solutions sets. As well as growth, this merged entity will enable us to offer a new set of services and solutions to our existing customers."
For more information about DyCom Wireless Solutions, visit www.dycom.com.au
For media assistance, call John Harris at Impress Media Australia on 08 8431 4000 or email jharris@impress.com.au.
Related News
Green builder unveils Zero Carbon Home design

Aspect Living today unveils its innovative design for an affordable, environmentally-friendly home in SA's pioneering Zero Carbon Challenge. Woodside-based Energy Aspect Living ...