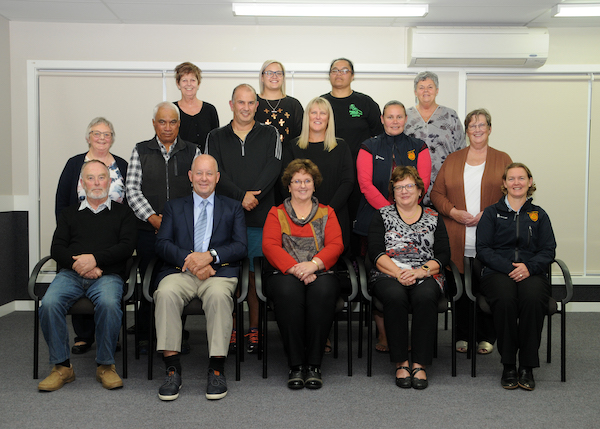 Hawera High School Centennial organising committee:
Back row: Judyth Marsh, Shontae Broughton-Malcolm, Dinah Kupe-King, Anne Duffy.
Second row: Fiona Nicholson, Harvey Tutauha, Peter Mihaljevich, Pauline Hurley, Tracey Hardy, Sandy Tosland.
Front row: Alan Drake (Sec.), Donald Stockwell (Chair), Judy Brown (Dept. Chair.), Val Baylis (Treas), Rachel Williams (Principal).Hawera High School will celebrate 100 years of co-educational secondary education in South Taranaki during the 2019 Labour Weekend, on October 25-27.
As Hawera High prepares to embark on a major rebuild of the school, former teachers, old scholars and members of the South Taranaki community have the chance to farewell school landmarks such as the Laurenson Block and High School Hall, where many a student laboured over their School C exam papers.
Events during the Hawera High 100 weekend include a Centennial cricket match; a Friday night meet and greet; school tours, decade photos, the Dedication & Centennial cake cutting, winding up with a Cabaret on Saturday, and the Official Jubilee luncheon on Sunday. For a brief rundown on the colourful history of Hawera High and details about registering to attend events, visit https://www.hawerahighreunion.com/.
Related News
Green builder unveils Zero Carbon Home design

Aspect Living today unveils its innovative design for an affordable, environmentally-friendly home in SA's pioneering Zero Carbon Challenge. Woodside-based Energy Aspect Living ...
SA 'green' builder skips waste on site

Environmentally-conscious SA builder Energy Aspect Living has designed its construction processes to eliminate building site waste and avoid the need for on-site skips. At a time ...