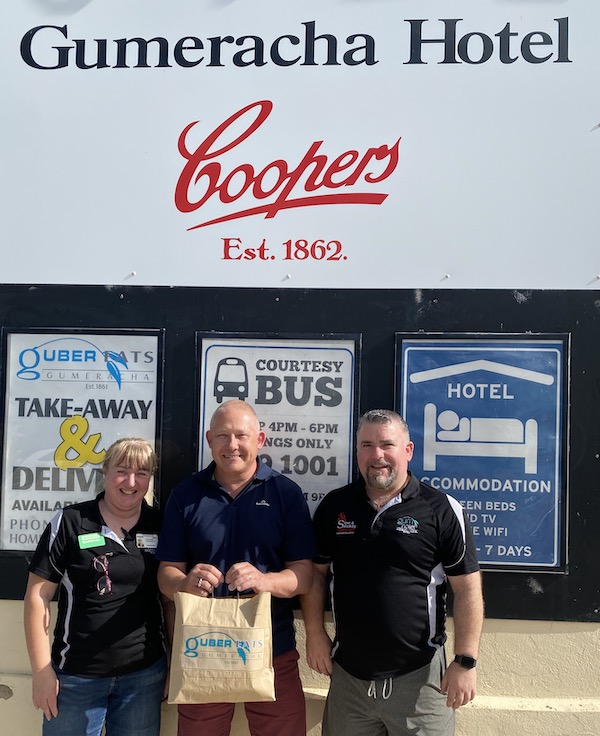 Amanda Warren with Vic Ratnieks (centre) and husband Mark at the Gumeracha HotelThe Gumeracha Hotel has won an Australian Hotels Association of SA Award for innovation for its nimble customer-focussed response to the pandemic, assisted by a Facebook Messenger ordering app designed by hungry software developer Vic Ratnieks.
The renovated hotel collected the Excellence award in the 'Recognition of Adaption & Innovation' category – along with Crown Inn Kingston and The Playford in Adelaide – which means they will represent SA in the AHA National Awards, to be held in Hobart on February 7 next year.
Gumeracha Hotel owners Mark and Amanda Warren scored the award for their innovative response during the depths of last year's COVID-19 downturn when trade was decimated by lockdowns and social distancing limits when no one was allowed to go to a pub or dine in.
Amanda and Mark had to pivot quickly to provide takeaway food from their kitchen to survive, but often suffered from overloaded phone lines because the hotel's website could not accept orders.
One evening, Adelaide Hills local Vic Ratnieks, who runs software developer Align Systems, raised this problem with Mark while collecting his takeaways. "I told him about how apps I'd developed using Facebook Messenger could let customers order takeaways online instead of the phone," recalls Vic.
"Messenger is a better platform than a website because it offers live engagement with your customers."
As a result of that spontaneous conversation, the Gumeracha Hotel went live on July 1 last year with a fully integrated takeaway ordering system using Align Systems' POS Chat app, which accepts orders and payments, then submits the order to the hotel's SwiftPOS point of sale system, with a failsafe SMS backup option. The arriving order triggers a short bell and a blue light at the hotel and is immediately printed in the kitchen for the chef and in the main bar, ready for the customer to collect.
Whenever the hotel changes its menu in SwiftPOS, these changes are reflected automatically in the Messenger app. Cheekily branded Gubereats, the Gumeracha Hotel takeaways system can announce specials and broadcast them to customers via Messenger and at the same time, build a marketing database for advertising via Messenger, Facebook and Instagram.
Gubereats promotion has included some funny videos on the hotel's Facebook page with Mark and his son Jett mimicking Shaz & Kim, who starred in ads for UberEATS. https://www.youtube.com/watch?v=mrtrmM8sy4I. You can check out a Gubereats ad here https://www.facebook.com/watch/?v=367933991082053.
Mark Warren said he and Amanda were very grateful for the strong support their hotel had received from customers in communities surrounding Gumeracha. "We set out to take orders directly rather than using third party apps, which just add another overhead cost," he said.
"This chance meeting with Vic – a Hills local and a loyal customer – has allowed us to do that while delivering even better service for our customers. We are delighted that the AHA has recognised the innovative way we've delivered this required service to our community."
To check out the Gumeracha Hotel's Gubereats takeaway ordering service, visit https://m.me/GumerachaHotel?ref=gubereats.
For media assistance, call John Harris on +61 8 8431 4000 or email john@impress.com.au.

About Align Systems https://align.com.au
Align Systems Pty Ltd is an Australian company that develops websites and messenger chatbots for small to medium businesses with a focus on bringing you more business. That doesn't mean just selling products online. Every business provides some sort of product and/or service. Our expertise is in enabling technology like a website or Facebook page to create engagement between the consumer and business, ultimately leading to more sales for you.
Related News
MODERNMAN warns against data complacency

Adelaide-based MODERNMAN Systems Consulting warns that many schools and education agencies risk exposing private data through complacency about computer network security. Increase...
Herbal health expert expands to Victor Harbor

Widely respected professional herbalist and iridologist Rob Elliott, who has recorded more than 20,000 patient visits in Adelaide, has expanded his reach by launching a consulting ...
OZ Odyssey unleashes The Beast on Outback

Struggling cars on a 3200 fundraising odyssey for The Royal Flying Doctor service now have a secret weapon called The Beast – a purpose-built 10-tonne rescue truck to haul them out...