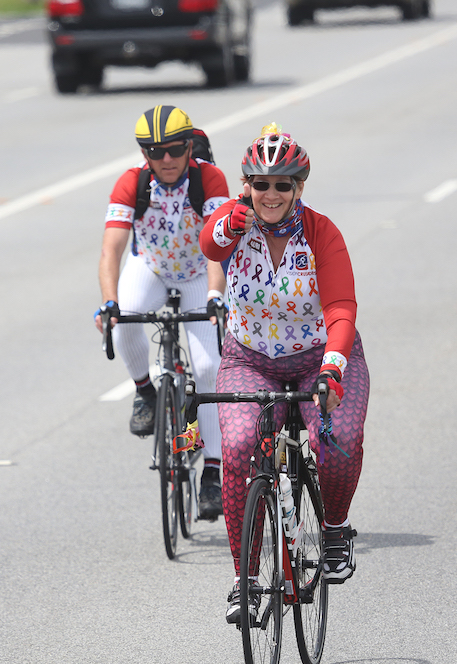 An Adelaide couple has launched a campaign to recruit as many as 200 cyclists who can raise more than $200,000 to fund research for the fight against cancer.
Meri Griesbach and her partner Horst, who lost their son after he was diagnosed with thyroid cancer, are hoping to lift the funds raised by the Lightsview Ride Like Crazy event from this year's $800,000 to more than $1 million in January 2015.
To reach seven figures, the Seaview Downs couple have joined a national team of anti-cancer cyclists, called Vision Crusaders, which has raised more than $750,000 through cycling events from Perth to New Zealand since 2011, raising over $420,000 during 2014.
SA Police established Lightsview Ride Like Crazy Inc. in 2010 after the untimely death of police officer Mick "Crazy" Koerner, from an inoperable brain tumour. Since then, the mass participation bike ride has become a well-respected and successful community event.
Meri Griesbach said this year's 200km Ride to Conquer Cancer was difficult but incredibly rewarding because of its contribution to medical research into finding a cure for cancer. "I can no longer sit idle and feeling helpless in the face of this disease," she said.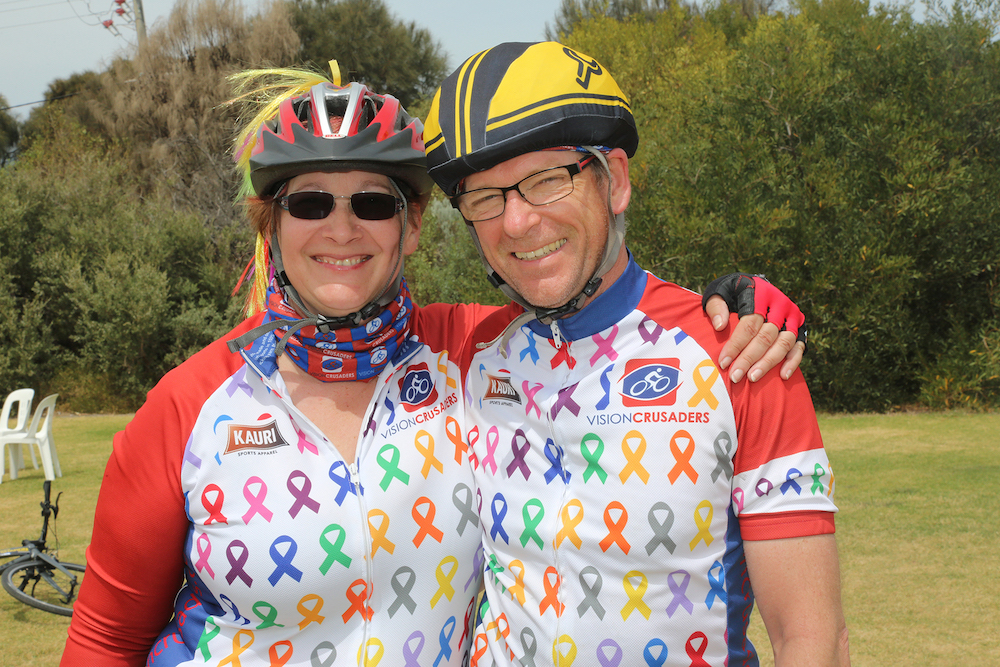 "My son was found to have thyroid cancer during autopsy after taking his own life. We believe, although we cannot be sure, that this contributed to his state of mind and his tragic loss. Our grief is profound… but it is also a driving force for me to keep trying to prevent other parents feeling this pain.
"Our family has been hit hard by this disease. I have recently lost two cousins and currently have an aunt, and uncle fighting the disease, my sister and two of my nieces are survivors and the husband of one of my best friend's is currently in the battle of his life. So this cuts very close to the bone.
"Last year, we took part in the Ride to Conquer Cancer event here in Adelaide. This ride was 200km over two days, on our bikes. We are not avid cyclists, in fact I suffer an autoimmune condition which makes training for this event difficult as during a flare up I am unable to train. But this doesn't come close to the trauma and pain caused to cancer sufferers and their families. This is what keeps us going.
"I'm proud to say we completed the ride. It was extremely difficult, but the rewards were far beyond my expectations. 450 riders took part and raised $1.6 million dollars for Flinders Medical Centre.
"We have teamed up with an incredible group of riders called The Vision Crusaders, some of whom we met last year on the Ride to Conquer Cancer. They are such a colourful and determined group, with a level of empathy that made it a very easy decision to join them. They are all very passionate about the cause and we have participated in Ride to Conquer Cancer events interstate with them.
"It is our heartfelt desire to bring the amazing Vision Crusader ethos to Adelaide and support cancer research in our home state of South Australia."
Klaus Bartosch, the Australian and New Zealand Team Captain, who established the Vision Crusaders in 2011 is himself a cancer survivor and has beaten the disease now twice, first a stage 3 Melanoma and then last year Leukaemia, said the team aimed to make a significant difference to the total raised. "We aim to enlist as many as 200 riders, each with the goal of raising $1500 to entitle them to wear our special 'ribbon' jersey," he said. In 2013, the team even attracted the interest of Sir Richard Branson!
"Collectively, the Vision Crusaders team has raised more than $750,000 through cycling events from Perth to New Zealand since 2011 and a whopping $420,000 so far this year, so we look forward to helping raise a lot of money for the fight against cancer in SA."
The Lightsview Ride Like Crazy event will take place on Sunday, January 18, 2015. More details are available at http://www.ridelikecrazy.com/.
Meri and Horst invite anyone wanting to join the Vision Crusaders team for Lightsview Ride Like Crazy to contact them by phone on 0420 601 427, email visioncrusadersfundraising@gmail.com or on Facebook at Meri and Horst's Crusade
If you're unable to ride in the event, you can always donate to Vision Crusaders at http://www.teamflinders.com.au/ridelikecrazy/teams/visioncrusadersadl
For media assistance, call John Harris on 08 8431 4000 or email john@impress.com.au.
Related News
SA wine dynasty uncorks vintage film

SA's wine history unfolds in a just-released film about the history of the State's iconic wine-making dynasty, the Hamilton Family, spanning 176 years of vinicultural life &am...
Eden's $1250 for World Vision tops 2012 tally

Adelaide student Eden Harris has topped her 2012 tally by raising $1250 to assist people in the developing world through giving up food and furniture during World Visiion's 40 Hour...
'Sleep doctor' tech teaches to calm kids

Adelaide's "Baby Sleep Doctor" Dr Brian Symon has embraced technology, including a just-launched smartphone app', to help parents calm their children for a good night's sleep. Cal...