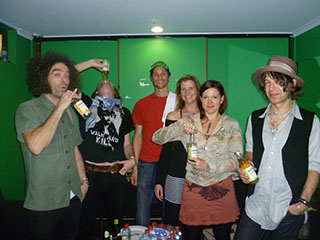 American rock band The Dandy Warhols are the latest musical icons to become fans of Australia's taste sensation MOJO Kombucha during their recent national tour of this country.
Like Bruce Springsteen and Neil Young before them, The Dandies came across the naturally made trendy tonic when their stage managers recommended it - and they were immediately won over.
The Dandies' singer-guitarist Courtney Taylor-Taylor was full of praise for MOJO Kombucha. "If you're in Australia, this stuff is awesome," he posted on the band's website at http://www.dandywarhols.com/news/airport-hotel-airport/.
"The ginger is the best one, by the way. The company sent us a bunch in Perth cuz they could believe we had it in our rider, and now they're gonna send it to every show. Bless 'em."
In the entertainment business, a "rider" is a set of requests - or demands - by performers for a range of hospitality and technical requirements during a tour.
MOJO Kombucha, a living, low sugar, unpasteurised drink made by fermentation using an ancient East Asian recipe, is produced at a purpose-built factory in the South Australian town of Willunga.
While only a cottage industry product in Australia until Organic and Raw started making MOJO Kombucha in January 2011, kombucha is a fast-growing, multi-million-dollar segment of the booming functional drinks market in the US. MOJO Kombucha is the number one brand in its category in Australia, with sales booming nationwide.
Organic and Raw managing director Anthony Crabb said MOJO Kombucha was winning a lot of kudos with touring acts who requested kombucha in their riders. "The Dandies really loved it," he said.
"Courtney is a big fan of the Ginger, Peter Holmström loves the original, and Zia was made on the Blueberry. Brent couldn't make up his mind.
"We've had a huge number of touring bands order MOJO Kombucha. Apart from Neil Young and the Boss, there's been Katie Perry, Pink, Motley Crue and Kiss.
"It really is the nectar of the rock gods."
For more information about MOJO Kombucha, visit www.organicandraw.com.au
For media assistance, call John Harris on 08 8431 4000 or email john@impress.com.au
Related News
Sitebook cures project pain

Australian-developed Sitebook has made managing building projects as easy as using your smartphone by adding project management tools to its affordable building safety app. First ...