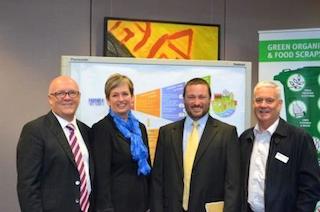 The City of Marion was today announced as the Keep Australia Beautiful National Sustainable Cities Winner for 2013 at the National Awards Ceremony at Coogee Beach, WA.
The win caps off a very successful awards event, where Marion also won the Young Legends and Heritage and Culture categories. Marion also received highly commended in two categories; Environmental Innovation and Protection and Water Conservation.
National Sustainable Cities Judge Cameron Little assessed the City of Marion in September this year working to a tight itinerary showcasing a number of environmental sustainability actions and initiatives undertake in Marion.
The judging process included a presentation of the Councils Strategic and Community Plans, Hallett Cove foreshore, Lower Field River, Warriparinga Wetlands, Living Kaurna Centre, Warradale Primary School and Oaklands wetland.
KESAB environmental solutions Executive Director John Phillips OAM said "The City of Marion prepared an extensive submission highlighting the complexity and diversity of managing a council specific to environmental sustainability and community health and well-being.
The City of Marion's commitment to sustainability through projects such as Hallett Cove Library Community Enterprise Centre, community grants, hard waste collection, food waste recycling, protection of biodiversity and coast care to name a few, is to be congratulated."
Other finalists at the Keep Australia Beautiful National Sustainable Cities awards include City of Swan (WA), Brisbane City Council (QLD), Launceston (Tas), Canada Bay (NSW) and City of Moreland (Vic).
Holdfast Bay - Category winner at Australian Clean Beaches Awards
Holdfast Bay has been commended with Waste & recycling management at the Keep Australia Beautiful, Australian Clean Beaches Awards 2013. The Overall Australian Clean Beaches award went to Currumbin, Queensland.
Keep South Australia Beautiful Inc
Telephone 08 8234 7255
Email admin@kesab.asn.au
Web: www.kesab.asn.au
For Media Assistance: Mike O'Reilly 0414 882 505
For Media Interviews: KESAB Chief Executive, John Phillips 0413 877 875
City of Marion, Craig Clarke 0434 600 637
Related News
Domain claims SA dealer spot for Lanier-Ricoh

Adelaide printer specialist Domain Technologies has announced its appointment as a Lanier-Ricoh Authorised Copier Dealer for South Australia. Domain Technologies promotes itself a...
Pat tapped to chair Executive Boards

Experienced business leader and former Internode CEO Patrick Tapper has agreed to become a Chair with Executive Boards Australia, an organisation that aims to build business leader...