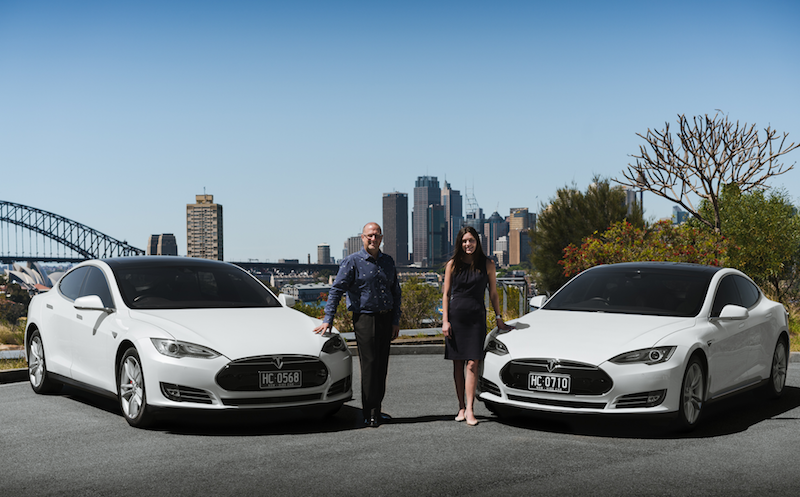 Simon Hackett with Pia Peterson
Sydney-based Tesla transport company Evoke plans to grow its fleet of luxury vehicles and expand interstate after technology investor Simon Hackett purchased a 10 per cent stake in the business.
Evoke began operation in May 2015 when the first Tesla Model S arrived in Australia, pitching itself as a zero emissions luxury chauffeur service. The privately-owned company deployed its fifth Model S in August with plans to add three Tesla Model X Sport Utility Vehicles (SUVs) by mid 2017.
Since it started, Evoke has made a significant environmental contribution, avoiding more than 110 tons of CO2 emissions and reducing the need for Australia to import more than 45,000 litres of petrol.
Simon Hackett, an avid Tesla enthusiast who met Evoke founder Pia Peterson through the Tesla community, uses Evoke's service whenever he is in Sydney.
Simon said he had invested in Evoke to support the company's growth. "Evoke offers a great service with wonderful cars, so I'm delighted to now assist with its development," he said.
"Evoke's contribution to the environment is quite an achievement."
Pia Peterson said Simon's investment made it easier for the company to finance its fleet expansion. "We plan to add three Model X SUVs to our Sydney fleet by the middle of next year, which will be fantastic for transporting larger families in comfort and providing more flexibility for our corporate partners," she said.
"We're also looking to launch our business in Melbourne next year, so Simon's support will greatly assist with our expansion plans."
For media assistance, call John Harris on 08 8431 4000 or email john@impress.com.au.
About Evoke https://www.evoke.limo/
Evoke is a Sydney-based luxury chauffeur service that strives to surprise, delight and exceed your expectations. Get a glimpse of the future in motion during your memorable journey in Tesla Model S, a sleek, uber-quiet and spacious vehicle with unparalleled technology. Whether for personal or executive travel, the distinctive service of our professional and attentive chauffeurs will ensure you arrive safely at your destination, in comfort and with a smile (or maybe even the "Tesla grin").