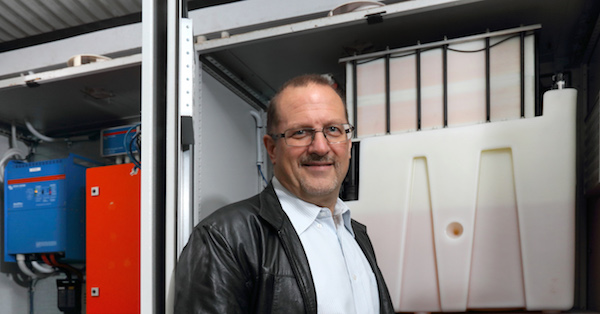 Redflow CEO Simon Hackett with ZBM2 batteryAustralian battery company Redflow Limited has repeated its largest ever sale of ZBM2 zinc-bromine flow batteries, after receiving a second international order worth about US$600,000 (A$750,000).
Auckland-based Hi-Tech Solutions placed this latest order for a major, multiple stage project which is using Redflow's ZBM2 batteries to build advanced hybrid energy storage systems that will deliver reliable power to multiple remote sites in a Pacific Island nation.
Hi-Tech specialises in providing telecommunications and infrastructure services for clients in New Zealand and internationally.
Redflow has completed delivery of all batteries to fulfil Hi-Tech's first order, announced in May.
Redflow CEO Simon Hackett said this repeat large sale validated the appeal of ZBM2 batteries to replace lead-acid batteries for network power applications in demanding and remote environments. "We are delighted that Hitech has again chosen Redflow batteries," he said.
"This second major sale confirms the unique advantages of our zinc-bromine flow batteries for this high-workload deployment in the tropics. The ZBM2 excels in hot environments and for applications that require high cycle depth and cycle frequency, such as the deployment Hi-Tech is undertaking. This sort of environment and use case wears out lead-acid batteries in relatively short order, requiring their frequent replacement, whereas ZBM2s thrive on heat and hard work.
"We look forward to working with Hi-Tech to ensure its imminent deployments of remote energy systems are successful in a variety of site sizes."
Redflow's 10 kilowatt-hour (kWh) ZBM2, the world's smallest zinc-bromine flow battery, is uniquely qualified to replace lead-acid batteries in remote site deployments, such as telecommunication sites. The ZBM2 runs natively at 48 volts DC, making it simple to install. It is also easy to deploy in scalable parallel clusters for high availability, high scale deployments at the largest sites.
The ZBM2 battery comes with a 10-year or 36,500 kWh warranty - a much longer operating life than lead-acid batteries, which are typically replaced every 18-36 months when used in warm climates.
Hi-Tech placed its order through Redflow partner Vertiv (formerly Emerson Network Power), a mature Redflow system integrator that has previously deployed ZBM2 batteries for telco-related energy storage systems in New Zealand and Australia.
For Redflow media assistance, call John Harris on +61 8 8431 4000 or email john@impress.com.au.
About Redflow www.redflow.com
Redflow has designed its unique zinc-bromine flow batteries for stationary energy storage applications ranging from its ZCell residential battery to its scalable ZBM2 batteries for industrial, commercial, telecommunications and grid-scale deployment. Redflow, a publicly-listed company (ASX: RFX), produces high energy density batteries that are sold, installed and maintained by an international network of system integrators. Redflow batteries offer unique advantages including 100 per cent depth of discharge, tolerance of ambient temperatures as hot as 50 degrees Celsius and sustained energy storage of 10 kilowatt-hours (kWh) throughout its operating life.
Related News
Redflow expands into China

Redflow CEO Tim Harris Australian energy storage technology company Redflow Limited (ASX: RFX) is pleased to announce that it has signed a collaboration agreement with Chinese zin...