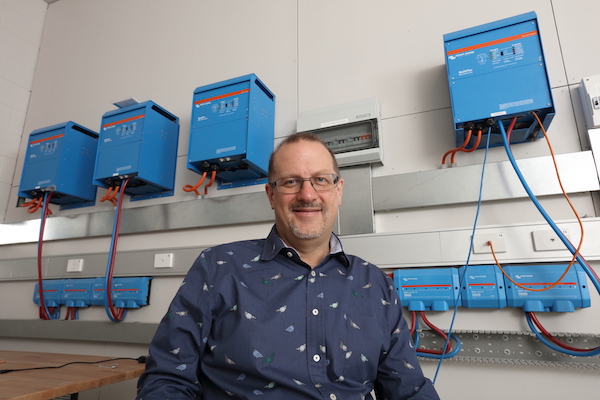 Redflow CEO Simon Hackett: "We remain on track to commence production with our new manufacturing partner MPTS as planned"Australian battery company Redflow Limited has today announced it has established a company in Thailand to manage production of its zinc-bromine flow batteries in South East Asia.
In May, the ASX-listed company (ASX:RFX) announced its decision to move its battery manufacturing from North America to South East Asia, to be closer to its most lucrative markets, in Australia, Oceania and southern Africa, and to reduce production costs.
In a statement to the ASX this morning, Redflow reported that it has established Redflow (Thailand) Limited, which is negotiating a lease on premises in a Thai free trade zone. It is also seeking Thai licensing and regulatory approvals.
As well as its location, close to Redflow's supply chain and marketplaces, Thailand offers good manufacturing expertise, competitive logistics, an attractive labour cost and effective tax treatment for international manufacturers within its free trade zone structure.
Redflow CEO Simon Hackett said the final North American production batch of ZBM2 batteries was now in transit to Australia. "I'm pleased to report that our stack manufacturing equipment from North America has arrived in Thailand ahead of schedule," he said.
"We remain on track to commence production with our new manufacturing partner MPTS as planned."
Redflow also reported that its integration partners have sold its ZCell batteries for residential and commercial properties in Queensland, NSW, ACT, Tasmania, Victoria and SA.
Mr Hackett said most ZCell batteries were deployed in scalable configurations using multiple parallel batteries, which leverage the key technical and economic advantages of Redflow's unique technology. "Popular configurations include 2-6 battery off-grid residential systems and 3-6 battery on-grid residential and commercial systems," he said.
The ASX update stated that Redflow has now delivered all the batteries for its largest order to date, to New Zealand-based telecommunication systems integrator Hitech Solutions.
Hitech Solutions has commenced construction of the first of its modular energy systems to include the use of Redflow batteries. These energy systems are sized to suit the requirements of each destination site and will be deployed progressively across multiple locations in a Pacific Island nation.
Redflow also reported it is confident that the performance issues reported earlier this year are now resolved. The company has successfully tested and proved the process to remediate battery electrolyte in cases where battery quality testing indicates that this is desirable. Redflow is now progressively applying this remediation to those batteries that require it.
For media assistance, please call John Harris on +61 8 8431 4000 or email john@impress.com.au.
About Redflow www.redflow.com
Redflow's unique zinc-bromine flow batteries are designed for stationary energy storage applications ranging from its ZCell residential battery to its scalable ZBM2 batteries for industrial, commercial, telecommunications and grid-scale deployment. Redflow Limited, a publicly-listed company (ASX: RFX), produces high energy density batteries that are sold, installed and maintained by an international network of system integrators. Redflow batteries offer unique advantages including 100 per cent depth of discharge, tolerance of ambient temperatures as hot as 50 degrees Celsius and sustained energy storage of 10 kilowatt hours (kWh) throughout its operating life.
Related News
Redflow applauds SA Govt battery policy

Australian battery company Redflow Limited has applauded the South Australian government's decision to invest $150 million in battery technology to support the State's ...
Redflow board pleased by Thai factory progress

Redflow stack line at new factory in ThailandThe board of Australian battery company Redflow Limited has commended the successful commissioning of the company's new factory in Thai...