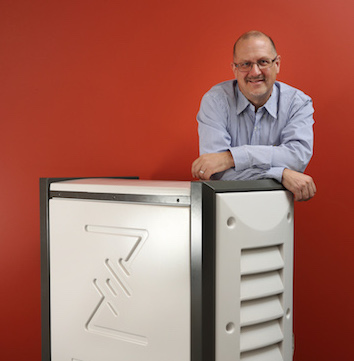 Redflow CEO Simon Hackett
Australian energy storage specialist Redflow Limited has welcomed news that Victron Energy's MultiGrid 48/3000 battery inverter is now approved for connection to the Australian electricity grid.
The MultiGrid 48/3000 is a version of Victron's popular MultiPlus 48/3000 inverter enhanced to meet the AS/NZS4777.2:2015 standard for grid connection of energy systems via battery inverters.
ASX-listed Redflow (ASX:RFX) produces Australia's unique ZCell zinc-bromine flow battery which works with a range of battery inverters including Victron, Selectronic, Redback and GoodWe.
Redflow CEO Simon Hackett said the availability of the Victron MultiGrid 48/3000 inverter for grid-connected battery systems was good news for consumers. "Victron inverters are easy to configure, they work beautifully with ZCell and they are competitively priced," he said.
"Victron inverters have proved popular with ZCell customers who install off-grid energy storage systems, so AS4777.2 approval makes these inverters available to a much larger market. Victron inverters integrate easily with single-battery ZCell systems and are fully compatible with all major brands of AC solar inverters. This certification builds on the strength of the Victron product line in off-grid scenarios where it has a long pedigree in Australia."
Founded in The Netherlands in 1975, Victron Energy https://www.victronenergy.com/ built a strong international reputation for its automotive and marine battery inverters. The privately owned company recently entered the solar PV market, leveraging its experience to build robust and reliable off-grid battery inverters which are now certified for use with grid-connected hybrid energy storage systems.
Victron's Area Manager for Oceania Margreet Leeftink said Victron had sought AS4777.2 certification for the MultiGrid 48/3000 to meet customer demand. "We have an increasing number of customers, in Australia and overseas, who wanted to use Victron inverters with grid-connected systems," she said.
"This is just our first grid-ready model. We are planning to progressively release AS4777-compliant models throughout our battery inverter range during the rest of this year."
The Victron MultiGrid 48/3000 inverter is now listed on the Clean Energy Council website at http://www.solaraccreditation.com.au/products/inverters/approved-inverters.html#searchResults.
For more information about Redflow's ZCell residential energy storage systems, visit www.zcell.com. For more about Redflow's ZBM2 commercial energy storage systems, visit www.redflow.com.
For media assistance, call John Harris on +61 8 8431 4000 or email john@impress.com.au.
About Redflow www.redflow.com
Redflow Limited is an energy storage specialist that has developed the world's smallest zinc-bromine flow batteries. Redflow's unique flow batteries are designed for stationary energy storage applications ranging from its ZCell home battery to its scalable ZBM2 batteries for industrial, commercial, telecommunications and grid-scale deployment. Redflow is a publicly-listed company (ASX: RFX) that operates R&D facilities in Australia, as well as offices in the US and Europe. Produced in North America by Flex, one of the world's largest supply chain solution companies, Redflow's high energy density batteries are sold, installed and maintained by a global network of system integrators.
Related News
Redflow lauds big battery project for SA

Redflow CEO Simon Hackett with LSBRedflow CEO Simon Hackett has commended today's announcement that the South Australian Government has awarded a contract to deploy a 129 mega...
Redflow charges into Asian telecom markets

Redflow Global Sales Director Andrew KempsterAustralian energy storage specialist Redflow Ltd is successfully selling its batteries in Asian countries where telecommunications...
Dutch dairy farm deploys six Redflow batteries

Andrew Kempster with Photon Farmer Jan BorgmanIn a Netherlands first, a Dutch dairy farm has deployed six Redflow ZBM2 zinc-bromine flow batteries to store self-produced solar ener...
Redflow simplifies Large Scale Battery design

Simon Hackett in front of the redesigned LSB (Large Scale Battery) at Base64 in AdelaideAustralian battery company Redflow Limited (ASX:RFX) has simplified using its batteries in l...