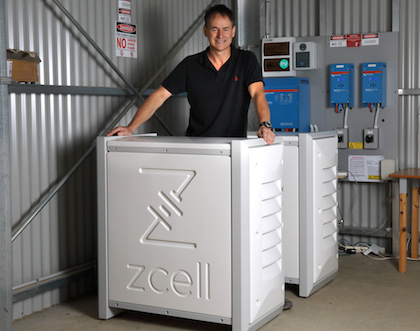 Alan Noble with his ZCellsAustralian battery company Redflow Limited (ASX:RFX) today announces that a residential energy system at an off-grid property in SA is the first completed customer deployment of its ZCell batteries.
Previously mains power was available in only one corner of the hilly 100-hectare Willunga property, owned by the family of Alan Noble, Engineering Director for Google Australia and New Zealand.
Mr Noble said extending mains power further across the hilly terrain would be substantially more expensive and less flexible than the off-grid solution with two ZCell batteries, which can store 20 kilowatt hours (kWh) of energy, powered by solar panels on the roof of a large implement shed.
The batteries, which were integrated with 24 Australian-made Tindo Solar panels and two Victron battery inverters by ZCell installer Off-Grid Energy Australia, continued working uninterrupted during the recent storm-caused power failure that blacked out the rest of South Australia.
Mr Noble said he had installed the ZCells to provide him with flexibility, safety and affordability. "We wanted the flexibility to build anywhere on the site without having overhead power lines," he said.
"Secondly, we have power when we need it. If there is a bushfire here, we can power our pumps properly whereas electricity distributor SA Power Networks has a policy of actually shedding power during high bushfire risk days, so precisely when you need the power, they shut it down. Without the ZCells, we'd be running around trying to fire up generators during hot days, which is not practical.
"Also, we want to make this property as automated as possible. I want it so we can move water automatically, based on the power to turn on pumps, to turn on sprinklers and turn on any fire defences. We can only do that if we have our own on-site power.
"Last, but not least, I really like the idea of being self-sufficient. The way I see it, grid power is getting more and more expensive, so this is an investment that in the long term is going to be worth it."
Mr Noble said he had chosen Redflow's ZCell zinc-bromine flow batteries rather than lithium-based alternatives for two reasons. "Firstly, they can cope with a high heat environment, which is not true of a lot of batteries," he said.
"It does get hot here in the summer as the shed is not air-conditioned. Also, getting back to the earlier point about having power when you need it most, on really hot, high risk bushfire days, I want to make sure my batteries are working on those extreme heat days.
"The other benefit is that you can have them just sitting there. Conventional batteries don't like being fully discharged. Longer term, that's less of an issue, but over the next couple of years while we're not living here full-time, it's nice to know that I'm not going to destroy the batteries if they're fully discharged. They're also relatively compact batteries too, so they don't take a lot of space.
"Also, ease of use is a nice factor with ZCell. It's all very easily managed through the BMS (Battery Management System), both onsite and through the Internet. I'm looking forward to setting up my rules and have everything automated so it's just working quite happily.
"Finally, I kinda like the idea of doing my part to support Redflow as an Australian company, which was also the reason I chose photovoltaics from Tindo Solar, which is based in Adelaide."
Redflow CEO Simon Hackett said he was delighted to see the first two ZCell batteries installed and operating successfully in the field. "We have worked very hard to reach this point," he said. "We look forward to seeing many more ZCell-based residential and commercial energy system installations deployed around Australia and, ultimately, around the world."
For photos or media assistance, call John Harris on +61 8 8431 4000 or email john@impress.com.au.
About Redflow www.redflow.com
Redflow Limited is an energy storage specialist that has developed the world's smallest flow batteries. Redflow's unique flow batteries are designed for stationary energy storage applications ranging from its ZCell home battery to its ZBM battery range for commercial, telecommunications and grid-scale deployment. Redflow is a publicly-listed company (ASX: RFX) that operates R&D facilities in Australia, as well as offices in the US and Europe. Produced in North America by Flex, one of the world's largest supply chain solution companies, Redflow's high energy density batteries are sold, installed and maintained by a global network of system integrators.
Related News
Mossel Bay goes carbon neutral with Redflow

Redflow Global Sales Director Andrew KempsterMossel Bay Municipality in the Southern Cape province of South Africa has eliminated the carbon footprint of its Technical Services Dep...
Redflow raises A$18.1M to grow battery sales

Redflow Chairman Brett Johnson Australian energy storage company Redflow Limited (ASX: RFX) today announced it will raise $18.1 million in equity capital to scale up battery produ...