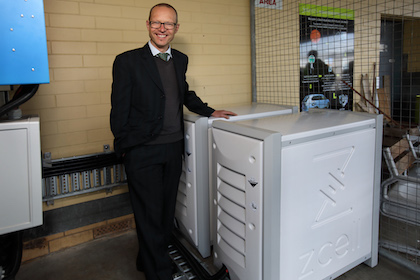 Conservation SA CEO Craig WilkinsSA's peak environmental organisation, Conservation SA, has installed two ZCell batteries to charge an electric car and to provide energy for emergency lighting and data centre backup for its office.
This first installation of ZCell batteries for commercial premises allows Conservation SA to store energy collected from a 13 kilowatt (kW) array of Tindo solar panels on the roof of its building, The Joinery, in central Adelaide. Earlier this week, Redflow announced its first ZCell deployment, a two-ZCell energy storage system installed at Alan Noble's off-grid property in Willunga.
The Australian-developed ZCell is a unique 10 kWh zinc-bromine flow battery that 'timeshifts' solar power from day to night, stores off-peak power for peak demand periods and supports off-grid systems. As well as providing backup power for Conservation SA's emergency lighting and first floor data centre, the ZCells will charge up the GoGet electric vehicle that is based at the site.
Assisted by a $5000 battery rebate from the Adelaide City Council, Conservation SA installed the ZCell energy storage system to demonstrate the effectiveness of onsite energy storage that was environmentally friendly. ZCells are made from elements that are easily recyclable or reusable.
Conservation SA CEO Craig Wilkins said the organisation was leading by example. "With Redflow ZCell batteries and Tindo Solar panels, we can seriously reduce our carbon emissions," he said.
"This is a fantastic opportunity to demonstrate exciting new technology. As part of our work here at The Joinery, we look to showcase to SA the next generation of energy technology, such as these ZCell batteries. They also help us as a not-for-profit organisation to reduce our power bills."
The Conservation SA installation at 111 Franklin Street comprises two ZCell batteries connected via a 5kW Victron inverter. The 52 x 250-watt Tindo Solar photovoltaic panels on the building's roof charge the ZCells through a Fronius solar inverter as well as directly supplying a substantial proportion of the daytime energy needs of the building. The flexible energy system is easily expanded in future.
The ZCells will be showcased this weekend to delegates attending the Australian Electric Vehicle Association national conference in Adelaide. As well as a presentation by John Lindsay, representing Redflow, the conference will feature ZCell installer Colin Lord from Sustainable Works demonstrating and explaining the Redflow energy storage system and Tindo Solar installation at The Joinery.
Mr Lord said the Conservation SA installation allowed detailed monitoring of the building's energy use. "Using ZCell's Battery Management System (BMS) interfaced to the Victron CCGX energy management unit, Conservation SA can see how much energy is used by the building and the electric car and how much mains power is offset by the batteries," he said.
Redflow CEO Simon Hackett said Conservation SA provided a high-visibility demonstration of the benefits of battery storage. "As well as providing a continuous power supply for critical systems, ZCell is providing all the electricity for the GoGet car located at Conservation SA," he said.
"We are delighted to have the first ZCells deployed to support a commercial office environment. Along with Alan Noble's off-grid ZCell deployment, this shows some more of the range of use cases supported by our batteries. We look forward to announcing more ZCell customer installations in the near future."
For photos or media assistance, call John Harris on +61 8 8431 4000 or email john@impress.com.au.
About Redflow www.redflow.com
Redflow Limited is an energy storage specialist that has developed the world's smallest flow batteries. Redflow's unique flow batteries are designed for stationary energy storage applications ranging from its ZCell home battery to its ZBM battery range for commercial, telecommunications and grid-scale deployment. Redflow is a publicly-listed company (ASX: RFX) that operates R&D facilities in Australia, as well as offices in the US and Europe. Produced in North America by Flex, one of the world's largest supply chain solution companies, Redflow's high energy density batteries are sold, installed and maintained by a global network of system integrators.
Related News
Redflow charges into Asian telecom markets

Redflow Global Sales Director Andrew KempsterAustralian energy storage specialist Redflow Ltd is successfully selling its batteries in Asian countries where telecommunications...
Redflow continues board renewal

New Redflow non-executive director Jenny MacdonaldAustralian battery company Redflow Limited (ASX: RFX) has recruited senior financial executive and director Jenny Macdonald to its...
Former Santos CEO joins Redflow board

New Redflow board member David KnoxAustralian energy storage specialist Redflow Limited has recruited former Santos Managing Director and CEO David Knox to its board of directors a...