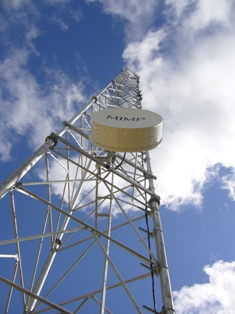 SA-based Alexandrina Council today launches its new inter-town wireless network that cuts more than $20,000 in annual communication costs between council premises in Goolwa and Strathalbyn.
With a two-and-a-half-year payback, the wide area wireless network eliminates expenses relating to the annual cost of fixed telephone lines, data lines and calls between council premises in the two towns.
Designed by MIMP Connecting Solutions, the $200,000 network runs at 200 megabits per second (Mb/s), using a microwave tower to create a 35km wireless connection between the two towns. The new network delivers additional savings by eliminating the carrier costs of connecting the main council office in each town with eight outlying offices, such as depots, community centres and landfill facilities.
Alexandrina is a thriving community which covers an 1800-square-kilometre area on the picturesque Fleurieu Peninsula south of Adelaide. Diverse industries in the area include tourism, viticulture, general farming and dairying, fruit production, manufacturing, engineering and boat building.
Mayor Kym McHugh said the new network would pay for itself in less than two-and-a-half years compared to the cost of connecting all premises via a telecommunications carrier. "We've completely modernised our phone system and rolled it out to more premises, but are saving about $20,000 a year in line rental and data costs by disconnecting a large number of commercial phone lines and Internet services," he said.
Alexandrina Council Manager of Information Technology Services Colin Shackleford said the council used technology to eliminate borders. "In terms of communication, all our offices in Goolwa and Strathalbyn are now one huge office," he said.
"We have no inter-office call costs between offices in the two towns and our high-speed computer network makes email and file transfer virtually instantaneous. Our data is centralised but accessible for all of our offices which allows us to properly manage, secure and back up our data.
"What this means for our ratepayers is faster and more effective service across our region. Our aim is to provide consistent, high speed access to tools and information for Council staff as they provide services across the community."
Adelaide-based wireless networking services specialist MIMP, which has worked with the Alexandrina Council since 2007, installed Ceragon microwave equipment for the network.
Alexandra Council has a reputation as a pioneer in the area of local government. Since 2003, the council's four-person Information Technology team has provided a fee-based IT support service for the Kangaroo Island Council's computer and telecommunications network. Last year, it began providing similar support services for the District Council of Yankalilla. Alexandrina Council also helped to reduce mobile phone costs by 24 per cent for these councils and the City of Victor Harbor Council by negotiating a single mobile phone contract, through the Fleurieu Regional Development Board.
Alexandrina Council is using a Mitel IP (Internet Protocol) telephone system from Data Mobility Voice at each of its offices to eradicate inter-office call costs by routing calls across the data network. A $1700 monthly reduction in line rentals and a 20 per cent cut in overall call costs will offset the $2000-a-month lease cost of the Mitel phone system. After 48 months, the council will own the new system.
Mr Shackleford said Council would cut PABX maintenance costs and reduce call charges by as much as 20 per cent, which would save even more. "More importantly, the new network allows Council to efficiently deliver services to the community and increase its information and communication activity without increasing its costs," he said.
"MIMP has been an amazing partner on this project, always coming up with interesting and different ways to do things. Its pricing has been very competitive and we're very happy with its follow-up service."
MIMP General Manager Allan Aitchison said the Alexandrina Council provided a clear demonstration of how to use strategic technology investment to improve service and to reduce costs. "This network has a very rapid payback period, even at the current level of use," he said.
"However, as communication use tends to increase over time, this will only accelerate Alexandrina's return on investment in the network, providing a great example for local governments elsewhere."
MIMP connecting solutions is an Australian owned company whose total business focus is the supply, installation and support of high capacity wideband digital transmission systems in the competitive business communications market. Established in June 1985, MIMP connecting solutions has provided and installed the transSpot™ passenger information system. Key clients included State and Local Governments, Education, Health, Defence, and large corporations.
For media assistance, call John Harris at Impress Media Australia on 08 8431 4000 or email jharris@impress.com.au
Related News
MIMP beats NBN to Kangaroo Island broadband

Adelaide-based wireless specialist MIMP Connecting Solutions has beaten the NBN to the punch by delivering high-speed broadband services for SA's Kangaroo Island. Supported by the...
MIMP network gets SA Heart Centres pumping

Adelaide-based network specialist MIMP has installed one of the fastest privately-owned wireless networks in the world to help SA Heart Centres deliver better patient care. ...
MIMP appoints first wireless construction boss

Australian wireless network specialist MIMP connecting solutions has appointed Ian Grivell as manager of its new Wireless Construction Division to build communications towers at re...
MIMP gives Flinders students a $250k Edge

SA-based communications trailblazer MIMP Connecting Solutions is teaming up with Flinders University to provide students with access to cutting edge telecommunications equipment. ...