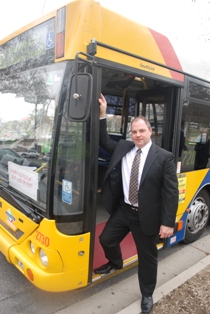 Australia's first Internet-enabled bus hits the roads for a six-month pilot program in Adelaide today, providing an advanced transSpot™ Real-time Passenger Information System and real-time security. It also offers free Web access and free gaming programs to passengers.
Dubbed i-Commute, the system has been developed and funded by a coalition of technology companies including MIMP Connecting Solutions, transSpot™, Cisco, Adam Internet, Podmo Mobile and Webshield Content Filtering. Also, the University of South Australia's Institute for Telecommunications Research assisted in testing the system.
The first bus equipped with i-Commute contains an advanced GPS-based real-time Passenger Information System supplied by transSpot™ Ltd from Israel. transSpot's solution provides valuable and useful information to the passengers on two LCD screens, including accurate estimated time of arrival to the next stop, real-time news feeds provided by the ABC (Australian Broadcasting Corporation), community information, and time and location-based advertising.
Adelaide is the first city in Australia to offer real-time route information with free Internet access aboard a public transport bus, putting the South Australian capital on a par with world-leading cities that include San Francisco, Seoul, Lisbon, Madrid, and Hamburg.
MIMP General Manager Allan Aitchison said the key to the system's success was its affordability.
"In future, the opportunity exists for i-Commute services to be paid for by advertising from companies along the bus route," he said. "As the bus approaches a stop, ads and community information relating to that location will be displayed on screen.
"The system is also capable of evolving to meet passenger needs. For example, future features may include audio announcements about the upcoming stops for the visually impaired, bus stop information to inform passengers of connecting buses and how long they will be, and real-time information about bus arrivals accessible on the Internet and mobile phones."
i-Commute will display the distance to forthcoming bus stops. As the bus approaches the stop, the i-Commute transSpot™ screens will display information about the location and any local business advertising associated with that stop.
Major benefits of the i-Commute system include live access to transSpot™ transport information, real-time security and location-specific advertising that can assist to fund the system.
Passengers on the i-Commute bus will be able to use WiFi-equipped devices to access the Internet for free through Adam Internet while inappropriate content will be filtered using Webshield's filtering systems. Free Bluetooth services provided by Podmo will allow any capable mobile device to access applications for gaming and information. Access to current news on-screen will also be available.
Real-time security is provided by an on-board camera which transmits information to a control centre where staff can monitor any incidents and contact police if necessary.
Costing nearly $500,000 to create, the i-Commute system has been designed, engineered, installed and funded by consortium members during the past 18 months, with support from the SA Government. The on-board system includes two transSpot™ 19 -inch, toughened glass display screens, a hardened PC to withstand the vibration that occurs on a bus, Cisco MAR (Mobile Access Router) devices which are used in US Army tanks, Podmo equipment and wiring secreted in the bus handrails.
MIMP connecting solutions is an Australian owned company whose total business focus is the supply, installation and support of high capacity wideband digital transmission systems in the competitive business communications market. Established in June 1985, MIMP connecting solutions has provided and installed the transSpot™ passenger information system. Key clients included State and Local Governments, Education, Health, Defence, and large corporations.
For media assistance, call John Harris at Impress Media Australia on 08 8431 4000 or email jharris@impress.com.au.
Related News
MIMP CEO eyed for EY Entrepreneur award

Allan Aitchison, who leads an Australian technology business that regularly reinvents itself, has been nominated as an EY Entrepreneur Of The Year for Australia's Central Region. ...