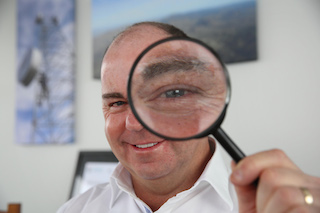 Allan Aitchison, who leads an Australian technology business that regularly reinvents itself, has been nominated as an EY Entrepreneur Of The Year for Australia's Central Region.
Allan, the ever-smiling CEO of Australian networking specialist MIMP connecting solutions, has played a central role in building the company into a national success.
MIMP was set up in the mid 1980s to network computer systems that were becoming increasingly interconnected in those pre-Internet days.
As cabling became commoditised, MIMP moved into new areas such as high-performance wireless networking where it could leverage its innovative approach and experience-rich expertise.MIMP founder
Doug Mackie said Allan Aitchison was a remarkable leader who epitomised the idea of the 'internal entrepreneur'. "Allan is always seeking to uncover new business opportunities for MIMP," he said.
"Whether he's planning details of deploying a wide area network in outback Australia or getting his hands dirty to help our techs meet a deadline, Allan is committed to making sure MIMP achieves its goals.
"For nearly 30 years, Allan has constantly come up with innovative solutions to problems faced by our clients, some of which have been spun off into standalone businesses.
"What impresses me about Allan is that he still comes into work with a smile each day – and he never stops having great ideas."Allan has been intimately involved with noteworthy MIMP projects including:
Deploying a full-duplex 100 megabits per second wireless network for aged care provider Life Care, connecting its head office in North Adelaide with its five aged care facilities in the eastern and southern suburbs of Adelaide, one as far as 50km away
Designing, building and managing a 480km, full-duplex 100 megabit per second microwave network from Miles to Gladstone, Queensland, in just 12 months, for energy resources joint venture Australia Pacific LNG Pty Ltd
Planning and installing Australia's first self-healing multicast mesh IP-based wireless network to support an $8.6 million Closed Circuit Television system that allows NT Police to remotely monitor trouble hotspots in Darwin.
Allan, who joined MIMP in 1987, complements his management abilities with a strong pedigree of practical technical skills including a Commercial Builders License; a Commercial Supervisor License, an Electrical Contractors License and an "A" Class Electrical License.
Allan has also served for many years as a voluntary officeholder for the SA branch of NECA, the National Electrical and Communications Association.
When he's not at work, Allan is the happily married father of two full-grown children and also a volunteer at his beloved Brighton Surf Life Saving Club.
Held in more than 145 cities and 60 countries worldwide, the EY Entrepreneur Of The Year program is considered the world's most prestigious business award.
Winners of the Central Region awards will be announced at a cocktail event in Adelaide on July 24.
For media assistance, call John Harris on 08 8431 4000 or email john@impress.com.au.
About MIMP connecting solutions
www.mimp.comMIMP connecting solutions is an Australian-owned company whose total business focus is the supply, installation and support of high capacity wideband digital transmission systems in the competitive business communications market. Established in June 1985, MIMP connecting solutions has provided and installed in excess of 600 systems throughout Australia. Key clients include the Adelaide Zoo, SA Heart Centre, State and Local Governments, Education, Health, Defence, and large corporations. MIMP connecting solutions is a flexible Adelaide-based organisation with a country-wide network of technicians trained to provide the best onsite and offsite support in the industry.

Related News
MIMP appoints first wireless construction boss

Australian wireless network specialist MIMP connecting solutions has appointed Ian Grivell as manager of its new Wireless Construction Division to build communications towers at re...
Warrawong wireless network wins award for MIMP

Australian network specialist MIMP has won another prestigious industry award, this time for a wireless network between two Adelaide zoos that will pay for itself within a year thr...
MIMP network delivers telehealth to remote SA

A National Science Week event in the remote SA community of Arkaroola today will use a MIMP microwave wireless network to showcase the value of telehealth for regional Australia. ...