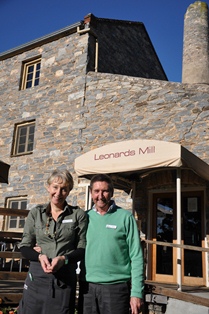 Although its foundations were laid in 1849, Fleurieu Peninsula restaurant Leonards Mill has reached the finals of the 2011 Savour Australia Awards for Excellence in its first year under new management.
The winner of this prestigious Maitre 'D Award (Customer Service) will be announced tonight at the Adelaide Convention Centre, during a gala dinner for members of the South Australian restaurant industry.  The Savour Australia Awards for Excellence are held annually by peak industry body Restaurant & Catering SA.
The anonymous nomination is a great accolade for sea change couple, Alan Greig and Jane Mitchell, who re-opened the doors of Leonards Mill in December last year after giving the 162-year-old structure a serious facelift.
Alan is an IT entrepreneur who has ran some of SA's most successful software companies, including Prophecy International and Empower. Jane has an extensive background in management and professional development.
The pair purchased the historic Leonards Mill restaurant and function centre on the Fleurieu Peninsula and refurbished it before the launch last Christmas. The two-storey stone building dates back to 1849, just 13 years after the colony of South Australia was founded.
Located in Second Valley, the bay was imaginatively named by SA's visionary Colonel William Light who came across the sea-facing valley shortly after discovery Rapid Bay – which was the first valley!
Alan Greig said the nomination for the Maitre 'D Award came as a complete surprise. "We were nominated anonymously," he said. "We've since been judged blind – which means we were not aware of the process – and are now one of just four finalists in this category, which is quite amazing after only six months in the trade!"
With Jane and Alan from Leonards Mill, the other finalists are Martin O'Connor at Auge Ristorante, Carlos Alvarez at The Pot Food & Wine and Jon Dean from The Woolshed at Rawnsley Park.
For more information about Leonards Mill, visit www.leonardsmill.com.au.
Related News
One-in-five Willunga premises take up NBN

Highest take-up rate in the country linked to small business or home office New figures released today by NBN Co show that one-in-five residents or businesses that can access the n...
Check your house price for free

checkmyhouseprice, a new service that provides homeowners with a free professional valuation of their house value, is now available to real estate agents – also for free!This break...