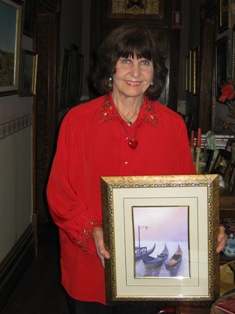 Demonstrating a romantic attraction that spans the centuries, legendary lover Casanova has inspired an art exhibition that opens in Burra on Saturday, October 24.
Passionate painter Annette Barrette Frankel reveals her love affair with Casanova in the exhibition of her latest work at Burra's Uptown Gallery. All funds raised will go towards restoring the century-old Bishop's Palace in Peterborough, now operating as the popular Saint Cecilia historic hotel.
Annette, who has called South Australia home for the past three decades, fell in love with Giacomo Casanova during a month-long visit to Venice earlier this year, where she explored every aspect of the great lover's life and loves in the romantic Italian city.
The amorous artist has captured on canvas the Venetian inspiration for the romantic exploits of the soldier, spy, diplomat, prisoner, adventurer and lover. The result is an exhibition that encapsulates everything Casanova loved about Venice and everything Annette loves about Casanova.
Annette said she loved every aspect of Venice, especially its architecture. "Venice Is quite beyond the norm and reflects a unique history," she said. "As I walked the streets and rode on its canals, I could envisage Venice as Casanova saw it, with all its glamour and mystery.
"I am continually fascinated by his personality and exploits."
Annette's paintings of Casanova's Venice will be displayed in Uptown Gallery in Burra for a month following the 2pm opening at Saturday, October 24. Funds raised from the exhibition will go towards restoring the balcony on St Cecilia's, the Bishop's Palace in Peterborough, which is renowned for the Murder Mystery dinners which Annette hosts in the historic 20-roomed mansion.
The Casanova's Venice exhibition will be opened by one of Adelaide's best-loved journalists, Diane Beer, the daughter of bushman's outfitter, the late R.M. Williams. As well as working for the ABC, Messenger and holding roles as Arts Editor and Medical Writer for Rupert Murdoch's first newspaper, The News, Diane went on to become press secretary for Mike Rann, before he was the premier.
Diane later established the Australian chapter of the Romance Writers of America in the 1990s – a credential that uniquely qualifies her to open such a romantic event!
For a photograph or to arrange an interview, please call John Harris on 08 8431 4000 or email jharris@impress.com.au.

Related News
Livestream explores Port's sounds of silence

A unique livestreamed radio show that explores after-dark soundscapes at historic spaces in Port Adelaide has attracted listeners from around the world. Called Broadcasts from e...
New CEO for Top Tourist Parks

Australia's largest tourist park marketing & member service organisation Top Tourist Parks of Australia (TTPA) has a new national CEO from the allied caravan and camping indust...
Anna tastes success with debut novel

Swedish-born Adelaide author Anna Solding, whose debut novel has received rave reviews, will sign copies of her best-selling book, The Hum of Concrete, in Norwood this weekend. Al...