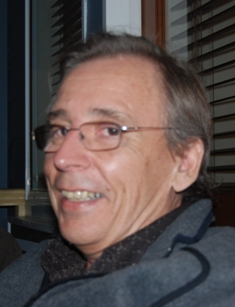 Multi-award-winning investigative reporter and fishing fanatic David Hellaby died in the early hours of last Friday (July 31, 2009) after an 18-month battle with pancreatic cancer.
Dave, 58, passed away peacefully, surrounded by his three children and their mother, in Brisbane, where he spent his last few months in quiet dignity.Dave was diagnosed with inoperable pancreatic cancer in February last year when one doctor told him he didn't need to worry about buying Christmas presents.
He returned to Australia after a three-year stint working in Dubai after that diagnosis, entering Brisbane's Princess Alexandra Hospital where he went under the surgeon's scalpel the week after Easter. After a marathon five-hour operation, he was told that the cancer had progressed too far to be removed.
Typical of a life characterised by a fierce tenacity and a powerful will that characterised his life, Dave refused to feel sorry for himself: Instead, he grabbed life by both ears to indulge his passions for travel, fine wine and fishing.
In doing so, he defied the medical prediction that cancer would cap him by Christmas.
In the past year, Dave travelled to the Middle East for business, New Zealand for fishing and even circumnavigated Australia on a cruise ship.
In a bucket list mission, Dave caught dozens of different fish varieties, both in New Zealand and along the coast of his beloved Queensland as far north as Cape York.
Dave was born in the Hutt Valley, near Wellington, New Zealand, in 1951. Although he stumbled into journalism by teaching an editor's kids to swim, his intelligence, integrity and tenacity established an award-winning career in investigative journalism on both sides of the Ditch.
Dave cut his teeth by reporting on New Zealand's notorious Mr. Asia heroin syndicate as a cadet, an investigation he finished as a senior journalist in Melbourne a decade later.
With wife Jillian and their young family, Dave returned to Godzone for the 1980s where he bagged a swag of journalism awards for his investigative reporting, including exposing the country's first GST fraud.
Dave called Australia home since 1990, when he loaded the family into a station wagon in Perth to 'go fish' the entire Australian coastline.
After making their way across the top of Australia and down the eastern seaboard, Dave stopped in Adelaide where his first major project was to investigate and report on the $3 billion collapse of the State Bank of South Australia and its messy aftermath.
Ironically, Dave was the only person ever convicted of an offence arising from the State Bank fiasco: He was fined $5000 for contempt of court after refusing to give up one of his sources.
Dave embarked on a career as an IT journo as the State Bank investigation began to unwind. Sick of death threats and security guards surrounding their home, David and Jillian established freelance IT editorial agency Meg A Byte Syndication.
With a number of print clients in tow, the Hellabys headed north to Brisbane where they managed to build Meg A Byte into an internationally successful business.
During this time, he went to air on Radio 4BC four times a day reporting from where-ever in the world he was junketing, doing live crosses as the business reporter. A memorable gig was the 'Mile High' report he did from First Class while crossing the Pacific.
Dave reported many of the milestones that mark the IT industry's unceasing evolution: The release of Windows 95 and subsequent Windows versions;  the unveiling of Apple's ground-breaking iMac; the release of every new video games console and the launch of more mobile phones than you've had hot breakfasts.
I met Dave in the early 1980s when I was a cadet on New Zealand Truth and he was a senior reporter. Our paths crossed again in Adelaide 10 years later and ran in parallel since then.
In the dozens of IT gigs we attended together, and the bar-side debriefs that often followed, Dave regaled me with tales of the crooks, cheats and rogues he'd written about over four decades of reporting (only some of whom were in the IT industry).
Dave broke some great stories in the newspapers he worked for which included the Courier Mail, the Adelaide Advertiser, the Truth in both Melbourne and New Zealand and Wellington's flagship rag, the Dominion, when it was edited by the legendary Geoff Bayliss.
But during the past year, D recognised that his greatest work was his children, and his three grandsons, who he cherished.
Dave Hellaby was a great journalist , a good friend and a loving father. The world is poorer for his passing.
If you have any memories or tributes to David that could be read out after his service, email them to higheden@hotmail.com.
Related News
Adelaide welcomes first Apple Store

Despite a chilly Friday night, diehard Apple fanbois camped overnight in Rundle Mall for Saturday's opening of Adelaide's first Apple Store. By 7am, about 100 people were queuing ...
Footy finals reveal butt-ugly facts

Q: What if… at this weekend's AFL & NRL Grand Finals the fields were covered with one year's worth of cigarette butt litter? A: The Swans & Hawks would be batt...