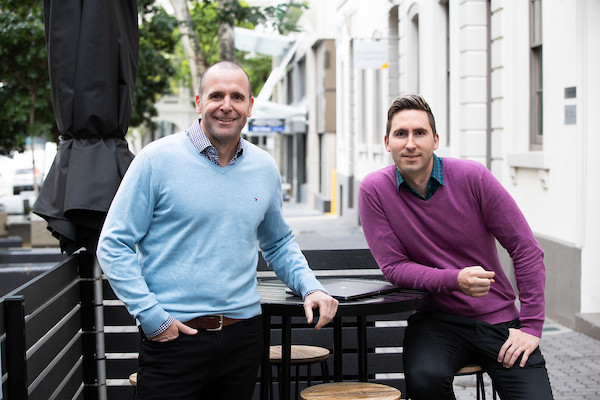 CitrusAd co-founders CMO Nick Paech (left) with CEO Brad MoranAustralian digital ad platform CitrusAd has announced the signing of five major international retail clients, including Groupon in the US and Sainsbury'sbury's in the UK, as revenues more than double to AUD$1 million a month thanks to a COVID-inspired online shopping boom.
Brisbane-based Citrus, which has also opened its third office in the US, currently supports 40 retailers in 22 countries, serving 28 billion ad requests annually. It has achieved 2000 per cent growth compared to this time last year. To this, Citrus will add Sainsbury'sbury's, one of the two largest supermarket chains in the United Kingdom, and Chicago-based Groupon, the American global e-commerce marketplace which connects subscribers with local merchants by offering activities, travel, goods and services in 15 countries.
Following a spate of recent deals, CitrusAd will now also be used globally by Ocado (the world's largest dedicated online grocery supermarket), PC Components (Spain's leading digital e-tailer), UK retailer Argos and leading international technology distributor Tech Data.
In Australia, the CitrusAd digital advertising platform is already used by major retailers including Coles, Woolworths, Officeworks and Dan Murphys. Launched in 2017 by former Adelaide Crows footballer, Brad Moran, CitrusAd is a retail SaaS (Software as a Service) company that turns retailer websites into revenue-generating digital advertising platforms.
The CitrusAd platform allows brands to buy space for their products on retailer websites, rivalling the advertising capability that in less than two years made global retailing giant Amazon the third-largest advertising platform in the world.
CitrusAd cofounder and CEO Brad Moran said the COVID-19 lockdowns around the world had turbocharged sales for the company. "It has catapulted us 10 years into the future," he said. "In the past eight weeks, we've seen online orders for retailers increase by four to five times, which has put a rocket under our revenues."
However, although CitrusAd growth has surged during international lockdowns, the company nearly missed out on a multi-million-dollar investment at the start of the pandemic.
Brad admits that CitrusAd's prospects did not look so rosy in late March as it was about to conclude a $6.5 million investment by Moelis Australia's Growth Capital Fund as part of a $7.5 million capital raise to fund growth. "COVID-19 really changed the landscape," he explains.
"Just as we were finalising the Moelis Australia investment after a six-month capital raise process, the first wave of the COVID-19 economic tsunami hit, with stock markets plunging, death rates climbing and countries starting to close their borders. That uncertainty meant we had to do a lot more work proving our potential to Moelis Australia, but they ended up supporting us as promised and now – two months on from that investment - our business is booming. CitrusAd is now working with 40 clients in 22 countries including 10 of the top 50 eCommerce companies in the world."
Moelis Australia Managing Director and portfolio manager Jaron Yuen said: "We were impressed with the maturity and commitment of the founders and the traction the business has generated with leading retailers globally. The broader market dislocation certainly added extra layers of scrutiny in our investment processes. Most importantly however, we are pleased to have the opportunity to support the growth of an innovative Australian company."
To support its growth, CitrusAd has established three offices in the US - in New York City, Chicago and most recently in Los Angeles - and opened offices in Spain and the Netherlands to extend its London presence.
For media assistance, call John Harris on +61 8 8431 4000 or email john@impress.com.au.
About CitrusAd https://www.citrusad.com/
CitrusAd is the world-leading white-label eCommerce advertising platform that enables retailers to monetise their digital assets and suppliers to increase sales by launching more targeted and cost-effective digital campaigns right at the point of purchase. Since it was launched in December 2017, CitrusAd has become the global retail industry's preferred sponsored product and banner ad platform. CitrusAd has partnered with successful Tier 1 retailers in the US, South America, Europe, Australia and Asia to empower the potential of their online shelf space. CitrusAd brings personalisation and monetisation together for the very first time. For more information, visit https://www.citrusad.com.
About Moelis Australia
Moelis Australia is an ASX-listed financial services group specialising in asset management, corporate advisory and equities. Since launching in 2009, Moelis Australia has advised on transactions worth over A$110 billion, assisted clients to raise more than A$10 billion in equity capital markets, and currently have approximately A$5 billion in assets under management. The Moelis Australia Growth Capital Fund, supported by capital under the Significant Investor Visa programme, invests expansion capital in innovative Australian businesses. For more information, visit https://moelisaustralia.com.