Details

In Fluid Solar

/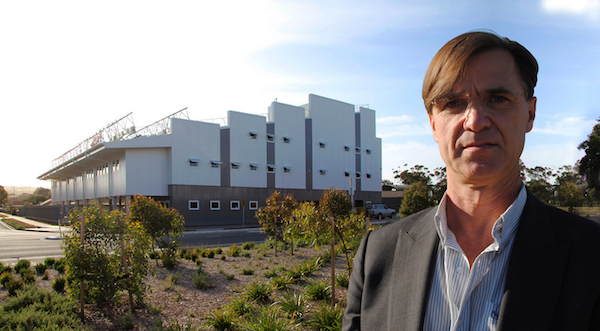 Roger Davies in front of Fluid Solar HouseBreakthrough building technology company Fluid Solar today cuts the power cord for Fluid Solar House, its new $8 million head office in Adelaide, which has run all winter on renewable energy, independent of SA's troubled power grid, using a world-first design that cuts construction costs and slashes energy consumption.
This afternoon, the Federal Minister for Environment and Energy, the Hon. Josh Frydenberg visited Fluid Solar House to symbolically sever the power cord connecting the energy self-sufficient building to the State's unreliable electricity grid. Fluid Solar's "Off-Grid Party" celebrates the fact that Fluid Solar House has operated free of the electricity grid since April this year, saving more than $28,000 in power bills.
Located just 1km from the closing GM Holden car plant at Elizabeth, 27km north of Adelaide, Fluid Solar House could disconnect from SA's embattled electricity grid due to its ability to generate 250 kilowatt peak (kWp) of solar thermal and electric power from the building's innovative combination of photovoltaic (PV) solar panels, concentrating solar thermal tubes and wind turbines on the rooftop.
Fluid Solar Managing Director Roger Davies said the company's building technology was a breakthrough in both construction and energy costs. "This is the future of affordable, energy-smart housing, from rural remote shacks to medium-rise commercial buildings," he said.